Power for horticulture
Call us now 0800 496 777
Horticulture pricing and plans
Our horticulture customers benefit from bespoke plans that suit their style of operation. Whether it's for viticulture, fruit or crop production, our team can work with you to put together a plan that works for your business. We've got your back.
Seasonal rates
If your power use is seasonal, a Seasonal Fixed Energy Plan makes sense. That means when your power use spikes, whether that's for your packing shed, coolstore, irrigation or frost-fighting missions, your rates are at their lowest.

This graph illustrates consumption and Meridian seasonal rates only. Your actual consumption and the rates charged to you will vary. The graph has been based on a single agribusiness customer's installation control point in the Waitaki region.
Year-Round rates
But if it's steady each trip round the sun, you'll get a better deal with our Year-Round Fixed Energy Plan. We've got your staff accommodation covered, too, with our sharp residential plans.
And if you're a bit of a mixed bag, no worries. We can work with that. Our agribusiness team will sort you out with a bespoke combination of pricing plans to suit every connection on your farm, orchard or vineyard.
Don't just take our word for it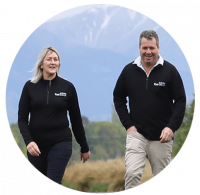 "We're yet to come across another power company with dedicated agri managers that will understand your business as well as Meridian does. It's not all about price, it's about relationships too. And Meridian is a hands down winner on both."
- Michelle and Leighton Pye, South Canterbury farmers
Get a better price with your rural supplier
Paying through a rural supply company is the simplest way to pay your power bill — and you get a better deal.
We've teamed up with top rural supply companies so you benefit from mates' rates: that's pricing, services and terms to suit you. If you're with one of these companies, you'll get a sweet deal on your power with Meridian.
loading
Network charges and off-peak times vary from region to region. So make sure you chat to someone with local knowledge (that's us) and the know-how to get you the best bang for buck (that's us, too).