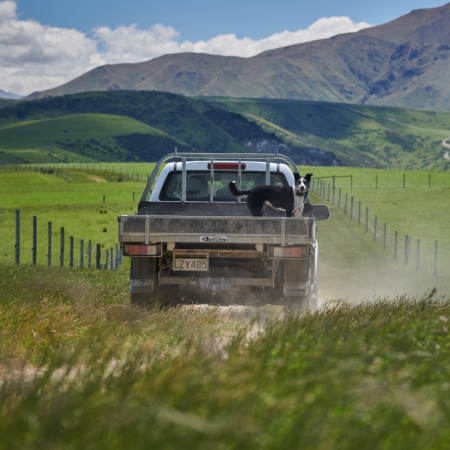 New Zealand Dairy Industry Awards
Award-winning farmers share their sustainable story
If you're looking for a winning formula for sustainable farming, you'll be pleased to know you don't need to throw everything out the window and start again. In fact, to Sam and Karen Bennett, who recently took home the Meridian Farm Environment Award at the NZ Dairy Industry Awards (NZDIA), it's pretty simple really.
"Start somewhere."
The Southland couple, who also placed third in the overall Share Farmer of the Year category, attribute their success to chipping away at lots of little things that they knew were the right things to do – for their farm, animals, and the environment.

"As long as I've known Karen, sustainability on farm has been a real passion for her," says Sam.

Karen says this has stemmed from the knowledge she gained from her animal science degree at Lincoln University, and since then her role at Fertiliser New Zealand.

"For the last ten years I've been out talking to farmers about how they can make their farm more sustainable by using non-acidic fertilisers, for example. I learnt about sustainability at uni, learnt about the benefits of having good soil to grow good grass and getting good animals. It all interlinks and we've been able to bring that knowledge on to our farm."

Over the past year, they've put their knowledge into action on Andrew and Jenny Calder's 223ha Wyndham farm, where they milk 630 cows.

The couple say their approach stacks up to making a big difference for the environment and reducing their carbon footprint. It takes work – but you've got to do more than just talk about it.
"You just have to start somewhere. And then you learn more, and you can do more. It's not overwhelming if you start with something little and build up from there," says Sam.
"Minimal waste is an example – if we're making a decision around buying something, we consider whether we should get it in bulk to save on packaging.
"Or effluent. We've had our effluent tested so we know what we're applying – we can use it as a nitrogen so we're not putting on surplus. And we use Ecotain, a species of plantain, which helps sit nitrogen in the grass so it's not leaching."
They've also tackled efficiency in the milking shed through a process of researching and applying a few different techniques and technologies.
"We try to be smart with energy efficiency. We've got a fail safe on our effluent system so we can run it between seven at night and five in the morning, when we're got our cheaper power rates," Sam says.

"An alert on my phone will go off if something goes wrong, so I can sleep easy at night.

"We recycle water through our heat exchange system, do recycled flood washing, and get the milking shed turned on and off again as quickly as we can too. We run a split herd, so we're only on the yard for a little bit instead of twice as long. And that cuts out on effluent, so you're not spending so much on pumps. It all adds up."

The 'start small' philosophy changes slightly when the couple turn to talking about riparian planting. The project is a biggie, and one that stood out to the NZDIA judges. Alongside the Calders, they've put together a six-year plan to plant trees throughout the farm and around the oxbow.

"The oxbow is an area of wetland right in the middle of the farm that we've fenced off and we're actually enhancing it," says Karen.

"It's really cool because we've read about them and a lot of dairy farms drain them away and turn the land into effective farmland. But we're going the opposite way and building it up to create new wildlife habitat."

Sam says farm owners Andrew and Jenny are totally on board with their plans, which has been key to their success.

"As contract milkers, we're limited to what the farm owners want to do. But with Andrew and Jenny we're just really aligned around sustainable farming. It's been a pleasure this season, and we do have a plan in place with them going forward," he says.
With this year's awards being livestreamed on TV instead of the usual gala dinner, the couple gathered friends and family at the Heartland Hotel in Gore to watch it together. And they were "so happy" when their names were announced for the Meridian Farm Environment Award.
"It was something that we really wanted, we put a lot of work into it and made sure the judges were aware of everything we do and how we farm, so we were so thrilled to hear we'd got it."
So what's next for Sam and Karen?
"Honestly, we want to carry on doing what we're doing with sustainability on farm. We're aware of it, we know how to do it, so we just have to keep going. It's really important.
"We've put what we've learnt into practice and seeing the results from that is really cool. We're really proud of that."