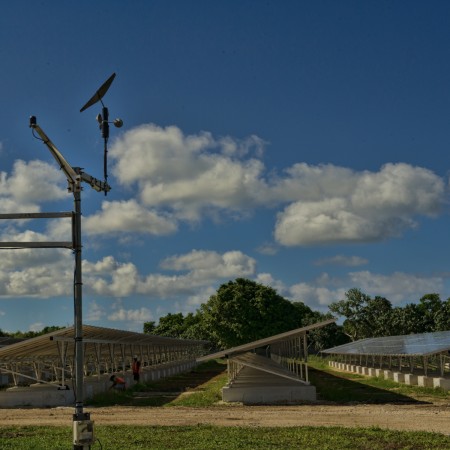 As a renewable energy generator, we're keen to do all we can to help increase renewable energy generation both in New Zealand, and the world over.
In 2011, we helped the Kingdom of Tonga begin their journey towards renewable energy by kicking off construction of the country's first solar farm - Maama Mai ('let there be light'). The solar farm was fully operational in 2012, and in 2017 full legal ownership of the solar farm transferred to Tonga Power.


Key dates
2011: Construction begins
2012: Site works completed
2012: Maama Mai fully operational
2017: Legal ownership passes to Tonga Power
The start of renewable energy in Tonga
Maama Mai is the first renewable energy generation facility connected to Tonga's electricity grid. It's made up of 5,760 photovoltaic solar panels and can generate up to 1.32 megawatts of electricity – reducing the country's annual diesel use by around 470,000 litres, and carbon emissions by more than 2,000 tonnes.
Before the solar farm, Tonga relied entirely on diesel fuel to generate electricity - which is both costly, and harmful to the environment. Now, solar helps provide around 4% of the country's total electricity demand. This also helps reduce electricity prices, so energy is more accessible for all Tongans.
Our part to play
The solar farm is an alliance between Meridian, Tonga Power and the governments of New Zealand and The Kingdom of Tonga, funded by the New Zealand Aid Programme. Meridian was the lead developer on the project.
In 2009, Meridian presented a proposal to the New Zealand Aid Programme identifying Samoa, American Samoa and The Kingdom of Tonga as suitable places to build solar farms. The proposal coincided with the Tongan Government's Tonga Energy Road Map, which is focused on reducing the Kingdom's reliance on fossil fuel.
In 2011, the New Zealand Government offered full funding of NZD$7.9 million for the Tonga solar farm project through the New Zealand Aid Programme.
We're proud to have helped Tonga gain access to energy that is cheaper, safer, and better for the environment.