While most Kiwis spent the summer sunning themselves at the country's beaches and campgrounds, Daryn Te Kere, a Meridian Wind Technician from Wellington headed to the coldest place on the planet.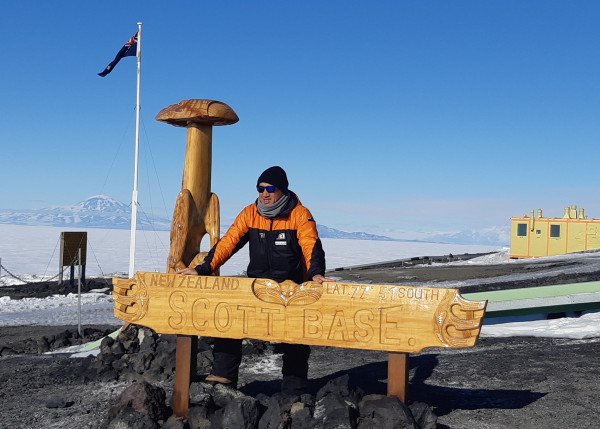 Daryn's mission was to perform maintenance on one of New Zealand's quiet climate success stories, the world's southernmost wind farm on Ross Island in Antarctica.
Built by Meridian Energy in 2008, the Ross Island Wind Farm is more than just three turbines on a hill overlooking Scott Base.
It represents the future of energy on a continent that is critical not only for science but also for its profound effect on the Earth's climate.
Currently, more than 11 million litres of diesel is burned in Antarctica to support human activity every year, releasing over 30,000 tonnes of carbon into its environment.
Fossil fuels also present a serious threat to Antarctica's fragile land and marine ecosystems from oil spills, and from toxicity as it seeps into the ground.
For Daryn, this makes the Ross Wind Farm a template for the future decarbonisation of Antarctica.
"After the wind farm became operational in 2009, tests showed the turbines were performing above expectations. It has cut annual diesel consumption at Scott Base by around 463,000 litres and reduced carbon emissions from Scott and nearby McMurdo bases by 1,242 tonnes a year." Te Kere says.
"Kiwis were the first to transform their energy use in Antarctica and I'm hugely proud of that."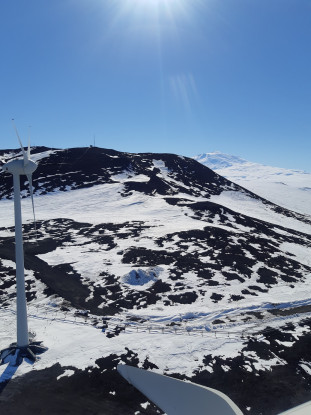 Stepping off the RNZAF Hercules in Antarctica, Daryn says he was immediately struck by the vastness and peacefulness of the ice shelf.
"I'll never forget the feeling of standing on the sea ice, feeling the pressure ridges move under my feet while Mount Erebus loomed above us bellowing smoke." Te Kere says.
"It's amazing to feel how alive this part of the planet is, and to witness such natural vibrancy in a remote place."
With Antarctica's short summer offering only a small window to allow for outdoor activities such as maintenance, Daryn had less than two weeks to carry out a general inspection and visual, electrical, and mechanical tests of all facets of the turbines. There were also plenty of bolts to torque and grease to top up.
Fortunately, Daryn also had downtime to explore and get the most out of his time in Antarctica.
"You'd think that being in the middle of nowhere would mean nothing to do with your time off, but actually, it's quite the opposite.
"There are walking tracks, as well as places to go mountain biking and skiing. Everyone has Sunday off work, so I set off with a group to go rock-climbing. We went up to Castle Rock and had a great view looking out towards the Dry Valleys," Te Kere says.
The experience has left Daryn with a deep appreciation for efforts to keep Antarctica free of pollution, which include sending all waste back to New Zealand and ensuring minimal human impact from day to day operations.
"Everyone takes a bucket and a bottle with them when they go to work to make sure nothing is left out on the ice. When you're in a wind turbine 40 meters up from the ground, normally it's a long way down to your bathroom, so this was actually more convenient if a lot stinkier!
"Wind power really is the future of energy in Antarctica. I look forward to the day this incredible continent is powered entirely by renewable energy, and I'll never forget my role in leading the way forward," Te Kere says.
Article first published in Stuff: Climate News April 19 2021