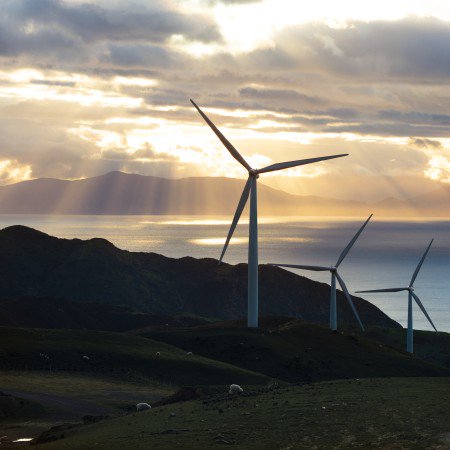 Wind farms
It gets pretty blustery in New Zealand – which is good news for us wind farmers. We have five wind farms dotted across the country as well as a solitary wind turbine in Brooklyn, Wellington. We also designed and built a wind farm at Ross Island in Antarctica that provides power to Scott Base and McMurdo research stations.
Where are Meridian's wind farms?
Te Uku

Te Uku is a 28-turbine wind farm located in Waikato, New Zealand. Te Uku wind farm generates enough electricity each year for about 27,000 average New Zealand homes.

Te Āpiti

Te Āpiti was the first wind farm Meridian built in New Zealand. It is also the first wind farm to supply electricity into the national energy grid, which is owned by Transpower.

Brooklyn

The Brooklyn wind turbine was New Zealand's first viable commercial wind turbine, located in Wellington, New Zealand.

West Wind

West Wind uses one of Wellington's most renowned natural resources – wind. The funnelling effect of Cook Strait means the site has strong and consistent wind speeds, making it an ideal place for a wind farm.

Mill Creek

Mill Creek wind farm is located northwest of Wellington near Ohariu Valley. The 26 turbines generate up to 59.8 megawatts of electricity, producing enough electricity each year for about 34,000 average New Zealand homes.

White Hill

White Hill is the second wind farm Meridian has built in New Zealand, and the first in the South Island. The 29 wind turbines at the White Hill wind farm generate enough electricity each year for about 22,000 average New Zealand homes.

Harapaki

We're excited to announce that construction has begun on Harapaki, our $395 million wind farm in Hawke's Bay. Harapaki will be New Zealand's second-largest wind farm with 41 turbines generating 176 MW of renewable energy, enough to power over 70,000 average households.

Ross Island

We built the world's southernmost wind farm in partnership with Antarctica New Zealand. Located on Crater Hill on Ross Island, Antarctica, the three wind turbines supply renewable energy for New Zealand's Scott Base and its neighbour, the American base at McMurdo Station.

Mt Munro

We're proposing to develop a wind farm at Mt Munro, approximately 5km south of Eketahuna in northern Wairarapa. It would have up to 20 turbines and produce around 300 GWh of renewable energy annually, enough to supply around 42,000 average homes. We are currently consulting with the community on the proposal.
How wind power works
Wind farms are made up of lots of individual wind turbines. To make electricity, the turbines need to face the wind. So on top of the nacelle sit an anemometer and a wind vane. They judge how the turbine should be positioned, so when the wind changes direction, motors turn the nacelle and blades to face into the wind.
The blades catch the energy in the wind which causes lift, creating a turning force. As the blades rotate, they spin a shaft inside the nacelle, which goes into the gearbox connected to a generator. The generator converts the rotational energy into electrical energy.
Then the electricity flows through cables into a transformer, and then to the wind farm's substation, where it's converted to the right voltage for the grid or local network.
The amount of electricity generated by a wind turbine depends on how hard the wind is blowing. In storms, wind turbines stop operating in order to protect themselves from extremely high winds.
Large turbines range in size from 50 to 5000 kilowatts. Single small turbines, below 50 kilowatts, are used for individual homes, telecommunications dishes and water pumps.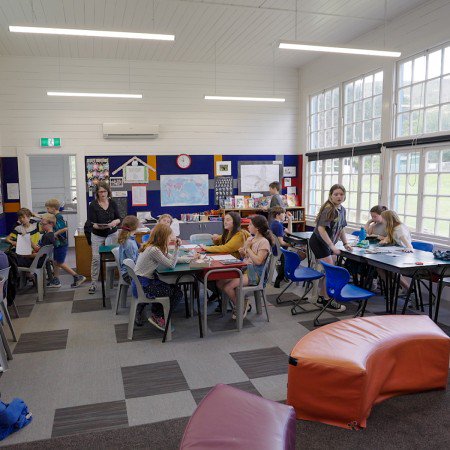 Meridian Power Up community fund
Our Power Up community fund supports local projects in the areas where we have wind farms and hydro stations. It's one of the ways that we recognise the importance of local communities to our operations.
If you're based near a Meridian hydro station and have a project you'd like to get off the ground, apply now!