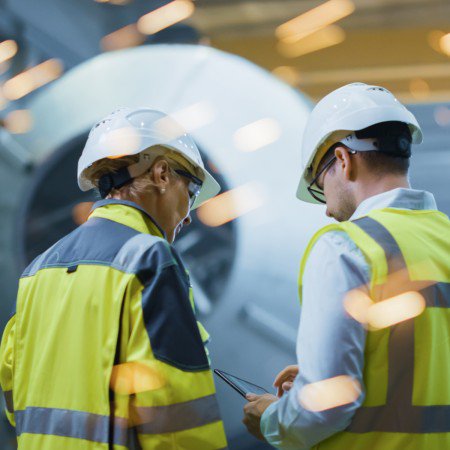 Large business
You've got the business, we've got the power.
Why choose Meridian?
All commercial and industrial businesses are all unique, so we've got options available to suit your individual needs. There are heaps of reasons why you should choose us to supply your business with electricity:
Experienced with businesses

We're tried and tested when it comes to providing energy solutions for businesses. In fact, we already work with some of the largest companies in Aotearoa New Zealand.

Account management from our expert team

Our dedicated Corporate Account Management Team is on hand to give you their ongoing support. We're keen to use our expertise to understand your needs, while working towards shared sustainability goals and outcomes. We want to be partners, not just suppliers.

Options to suit your business

It's your business, your choice. We've got a range of plans to make sure you get the right energy solution for your business. Speak to one of our skilled team so we can work together to find a solution that works best for you.

Certified Renewable Energy

Talk to us about how Certified Renewable Energy could help achieve your business' sustainability goals and potentially lower your carbon offsetting costs at the same time.

Sustainability options

That's right, we've got more options that are good for the planet. At Meridian, we want to do all we can to help contribute to decarbonisation. We can help you out with electric vehicle charging for your fleet, solar energy and more.

Reporting made easy

Keeping tabs on your account is simple. We've got a range of automated reporting options to help you with payment allocation and reconciliation, power consumption and account management.
Join us
If you're keen for us to power your industrial or corporate business, or want to find out more information, have a chat to our corporate sales specialists. Simply ask for a callback from the team so they can give you more details or provide you with a competitive quote.
Just email our business team with a time that suits you, or call 0800 496 777 and ask for the Corporate Sales Team.
Pricing and plans
EasiPlan

EasiPlan gives your business fixed rates for your electricity, so you know what rate you'll pay each month. It protects your business from fluctuations with the electricity Spot Market prices, giving you more certainty over your business' monthly bill.

Spot Market Plan

With the Spot Market Plan, the price your business pays for energy is linked to prices in the wholesale electricity market (Spot Market). It works best if you actively manage your business' energy spend and follow what's happening in the market.

Proportional Pricing Plan

You set a percentage of your electricity use that's charged at a fixed rate, with the remaining balance being charged at the electricity Spot Market Rate, plus an administration charge. You can select the level of risk that suits your business, with the added benefit of having some degree of price certainty.
Don't just take our word for it…
It's easy for us to say Meridian is the right choice for your business, but we're not the only ones who think so. Check out what some of our larger business customers have to say about working with us.
KiwiRail
See how we worked in partnership with KiwiRail to streamline their billing process, reducing their electricity invoices from 62 to just 1.
Auckland War Memorial Museum
See how we worked with Auckland War Memorial Museum to provide technical expertise for their solar-panel installation and guidance throughout the supplier selection process.
Wilson Hellaby Limited
Wilson Hellaby Limited talked to us about how they've made the most of Meridian's Account Management and engaged with us on energy efficiency.