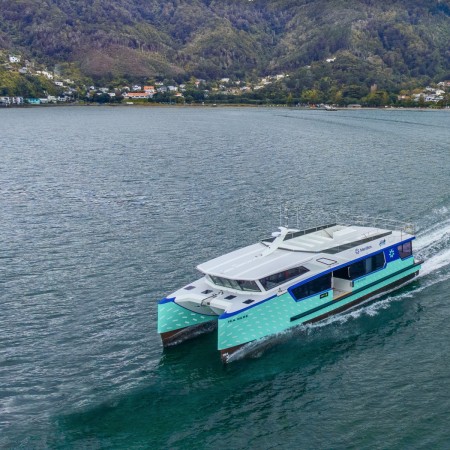 New Zealand's first electric ferry
Hitting the high seas
Decarbonisation by electrification is one of the biggest ways that we can take climate action and do our bit to take care of our planet for future generations. So, while we're not actually hitting the high seas, we are taking to the Wellington harbour and electrifying transport in a whole new way. It's not a car and it's not a plane. Can you guess?
Well, no need, because we're very excited to announce that Aotearoa's first electric passenger ferry has launched. That's right - the kiwi developed vessel is the first fully electric high performance passenger ferry in the Southern Hemisphere, built by Wellington Electric Boat Building Company (WEBBCo) for local ferry operator, East By West.
The carbon-fibre ferry is 19 metres in length and can hold up to 135 passengers. Powered by Meridian, it'll be providing a round-trip service in Te Whanganui-a-Tara (Wellington Harbour), taking passengers from Wellington CBD to Days Bay and Matiu/Somes Island.
"We're proud to lend our experience and energy to ground-breaking projects like this one that prove the potential for the electrification of transport to disrupt the status quo, and improve New Zealanders lives through building climate resilience." says Meridian Chief Executive Neal Barclay. 

East by West Managing Director Jeremy Ward says, "While the quiet hum of an electric boat is a much more pleasurable experience for passengers, this project is driven by our desire to take climate action." 

"Our two other diesel ferries use about 250,000 litres of fuel a year between them, it's not sustainable for the planet and I knew electrification was the answer. I was surprised to discover we were the first in New Zealand to be doing it, but we didn't let that hold us back," says Ward. 

Work on the ferry began in 2018, with the project originally scheduled to launch in mid-2020. Like many complex infrastructure projects, COVID's impact was felt but the team powered on, with Ika Rere finally officially launching in December 2021.
We are the first in the southern hemisphere to have taken a vessel of this kind off the drawing boards, and onto the water," says WEBBCo Managing Director Fraser Foote, whose Wellington-based company was first formed to build the ferry.
 
"Our collaborative approach with a team of leading NZ maritime experts alongside our experienced in-house build team was key to this, and we're extremely proud of what we've achieved together." 

A considerable amount of expertise has gone into the development of the ferry, with design, engineering, electrical specialists and boat builders all working together to get her floating and ready to launch.
"It is great to see New Zealand companies come together to deliver such a revolutionary first for the Southern Hemisphere. The talent of the companies involved have enabled this project to be a success" says Lindsay Faithfull, managing director of electrotechnology company, McKay.

We're very proud to be involved with this project and to provide the power that's going to get this ferry from A to B. If you're in Wellington, keep your eyes peeled, because you won't hear it coming! Even better, take a ride – nothing like a view of the capital from water.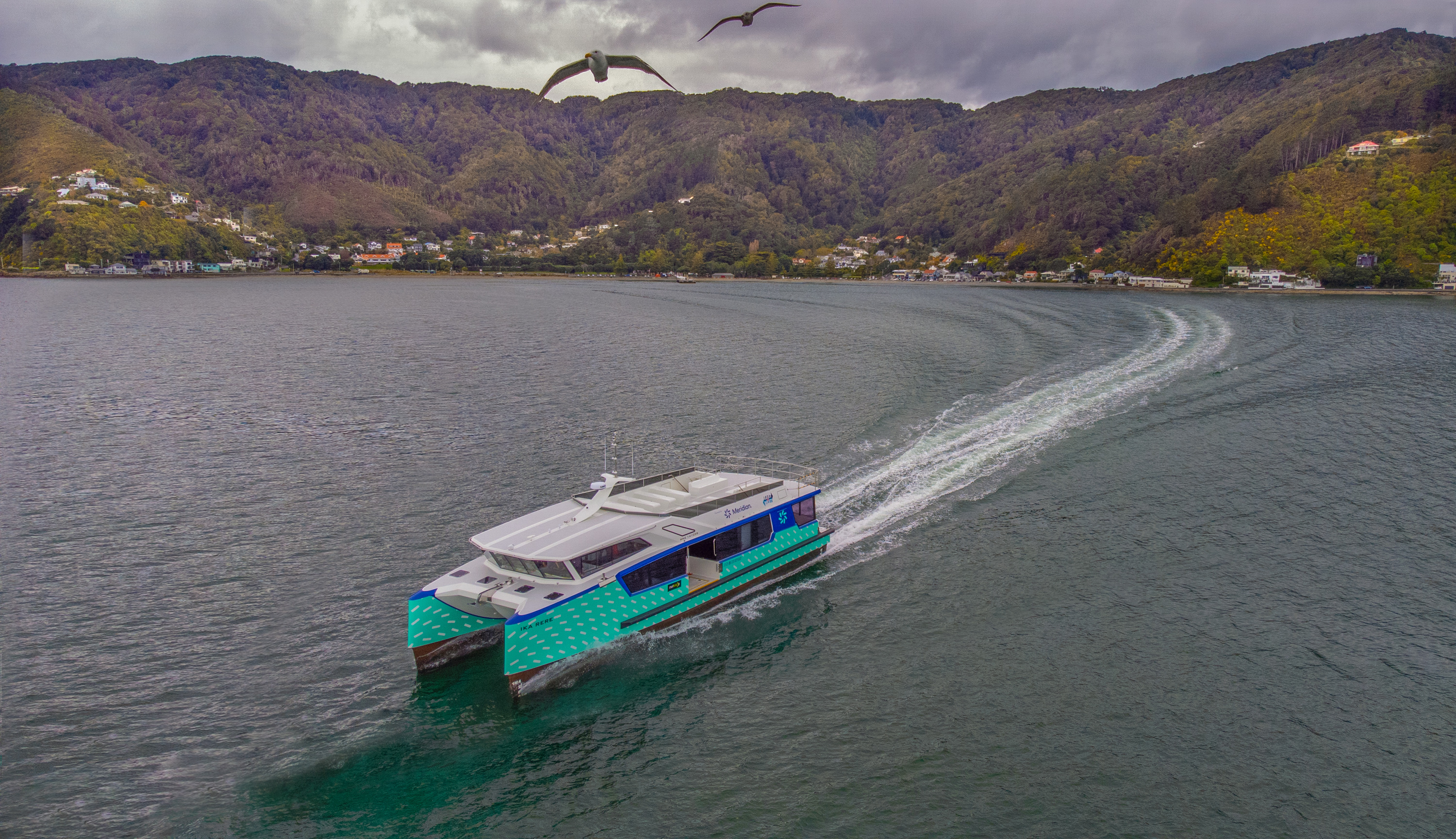 Ika Rere, the flying fish, glides across Te Whanganui a Tara (Wellington Harbour)