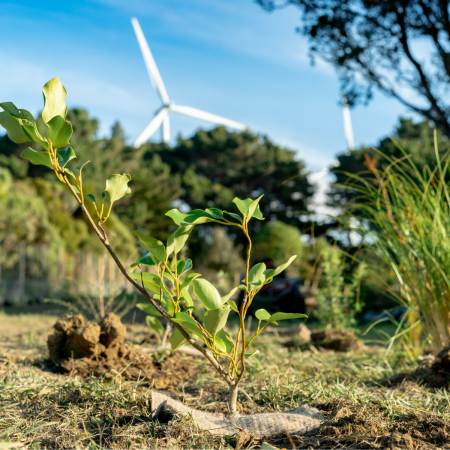 Forever Forests
We live in a special part of the world. With nature on our doorstep and fresh air in our lungs, we're some of the lucky ones in our everchanging climate. And we're all pretty keen to keep it like that.
So, when it comes to taking care of the environment and reducing our carbon impact, paying someone to plant some trees in another hemisphere isn't our style. Instead, we're chucking on the gumboots and picking up the spades ourselves – right here in New Zealand. With our Forever Forests planting programme, we'll have 1.5 million seedlings in the ground over the next five years.
Why Forever Forests?
Since we generate energy from 100% natural, renewable sources, the environment is something we're committed to taking care of. And we're in it for the long haul. Our forests are designed to be permanent, not harvested and replanted. So it's not just us that'll benefit – but our little ones, and theirs, too.
Nourishing and restoring the land that we rely on is for you, for us, and for future generations. Because it takes all of us to muck in and look after this place.
Let's talk trees
1.5 million is a lot of trees. 3,000 rugby fields worth, to be exact, spread throughout the country from the far north to the deep south. We've started on home soil, with our hydro stations and wind farms welcoming their first seedlings late in 2019. And we're now planning for land to house the rest.
The trees will be a mix of natives and exotics. Mixed planting is the best way to go, because the exotics are the carbon 'engine' - pulling carbon down from the atmosphere in a hurry. They then create a canopy to protect the natives in their early days so they can flourish later in life. In the long term, the natives will take over, leaving a lasting legacy for future generations.
Getting to carbon neutral
Once the trees are all planted, they'll start soaking up carbon. In fact, in a few years they'll soak up the same amount of carbon the Meridian Group emits – which means we'll be carbon neutral without buying overseas carbon credits.
Rest assured, though, we're not just leaving it up to the trees. We've set an ambitious target of halving our Group operational emissions by 2030, which includes reducing air travel and, given over 90% of our footprint is from our suppliers, means working to engage them in taking climate action in their businesses as well.
Again – it takes all of us to look after this place. Watch this space to find out more about how we can work together.
Hey, businesses – this one's for you
We know customers are demanding that companies like yours and ours consider the environment in almost every choice we make. By choosing Meridian, you're choosing a power company that's taking action to reduce carbon impact and tread lighter on our planet. So thanks for that. And good on you.
If you'd like to take it a step further, let's chat about Certified Renewable Energy - which gives you the ability to report your Scope 2 electricity emissions as zero. Choosing Certified is a simple decision that makes a difference. It shows your customers, partners, stakeholders and communities that you give a damn about the future of our planet, and that you're putting your money where your mouth is.
Here's the nitty gritty of how it all works, and how you can get it for your business.