Our Branded Partnerships Manager, Sarah, was lucky enough to trade her desk job for a visit to the deep south in search of kākāpō. Here's her encounter of 24 hours on Whenua Hou.
The journey begins
First stop: disinfectant. There's no visit to Whenua Hou without a rigorous quarantine process to protect our taonga species! Every single thing I was taking to the island had to be disinfected. And when I got to Invercargill, everything was searched in quarantine just to be sure no insects or seeds had snuck into my backpack. There was nothing to be found, so then the journey really began: Invercargill to Whenua Hou via a small but mighty helicopter.
Whenua Hou is a small island off the coast of Rakiura/Stewart Island, New Zealand. It's a predator-free sanctuary for many native New Zealand species, and holds almost half of the country's endangered kākāpō population. From my bird's eye view, the land looked pre-historic with dense native bush as far as I could see. I almost expected a dinosaur to stroll out of the forest at any moment. This was New Zealand as it used to be.
We nailed the beach landing (well, the pilot did) and the 'ranger train' began shuttling boxes after boxes of supplies to the hut. A karakia welcomed all the new arrivals, and I was lucky to meet the team: DOC rangers, a scientist, a Ngāi Tahu representative. With a cup of tea in hand, we settled into the hut for the night.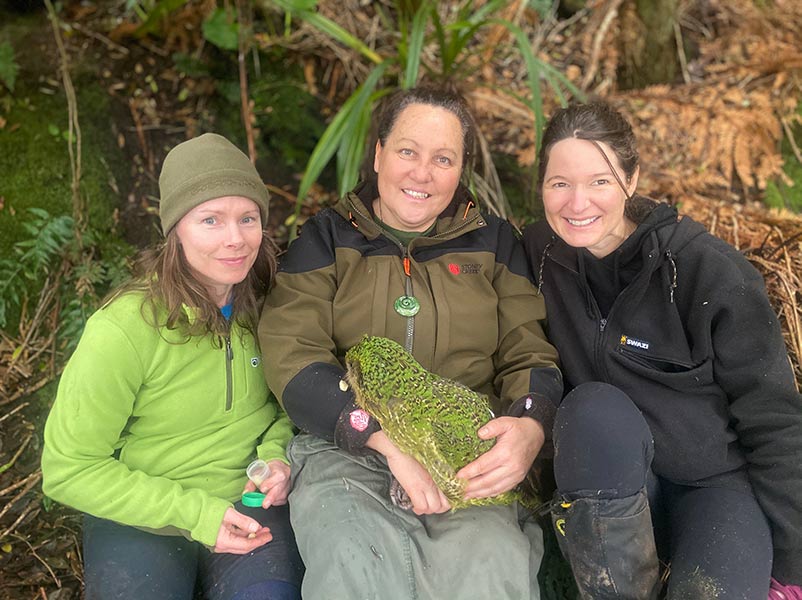 Love at first sight
When you're woken up in the wee hours of the morning by a DOC ranger saying "come outside, quick!" you know you're in for something special. And that I was. I opened the door to see Tōmua doing what he does best: patrolling the pathway from the hut to the long drop. I couldn't believe my blurry eyes, looking at this beautiful giant parrot that only very few people will ever meet. Rain drizzled on our backs while we sat with our PJs still on, head torches dimmed, watching Tōmua waddle around his hood. I could've stayed there for hours.
We're going on a kākāpō hunt
A few hours later, I figured out that this ranger business isn't all cups of tea and date scones (though there was lots of that too). This team was fit. I found myself trudging through the mud in their fast footsteps. We were on the lookout for kākāpō to change their transmitters, which are like tiny backpacks that send rangers info about the birds' location, health, mating and nesting. Five hours into our mostly uphill hike, we still hadn't had a signal. Not long after though, the ranger's tracking gear sounded the beeps we'd been waiting for. We quickly dropped our packs on the track and headed into the dense forest. After slipping, sliding and fighting off branches, we were on all fours – army crawling styles – hoping to spot some bright green feathers.
The signal got stronger, and soon enough a ranger clapped eyes on Kohitātea. We caught him, the rangers did a health check and transmitter change, and finally gave him his fave snack: macadamia nuts. They have expensive taste! Kohitātea gobbled them up with his eyes half closed, clearly in kākāpō heaven. Mission complete.
A dream come true
As I snuggled into my sleeping bag that night, I had to pinch myself thinking of the day, knowing how lucky I was to get up close with a kākāpō. My hat goes off to the Department of Conservation and the Kākāpō Recovery Programme. Living off grid on an island sounds dreamy, but helping keep 209 birds – and counting – alive is bloody hard work. And they're doing it for all of us, to bring these beautiful, quirky parrots back from the brink of extinction.