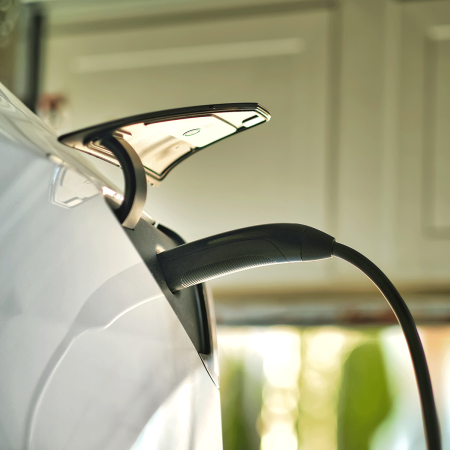 Help us test drive the future of EV charging
Interested in testing some new technology? If you're a Meridian customer who owns an EV and you're interested in helping us test drive the future of smart EV charging, we want to hear from you.
We're

looking for

Meridian customers who own a

Tesla, BMW,

Audi

or Volvo

EV

to take part in a

smart EV charging

trial

that will help shape the future of EV smart charging in New Zealand.
We're testing new EV charging technology that optimises EV charging based on the speed of the charger and grid demand. Smart charging not only takes advantage of cheaper electricity prices it also avoids charging at peak demand times when the national grid is under pressure. Pretty smart hey? We think so.
Our smart EV charging trial is one of our many efforts of to help reduce New Zealand's reliance on fossil fuels and achieve its net zero greenhouse emissions goal by 2050.
Who can join the smart EV charging trial?
You must be a Meridian residential customer as at 30 June 2023 and be based in New Zealand.
You own an EV model that is a Tesla, BMW, Volvo or Audi.
You must be able to charge your car at home.
You must have a good internet connection at home where you charge.
You're happy to talk to our friendly research team to share your experience.
Why sign up to the trial?
It doesn't cost a thing; in fact, we'll give you a monthly account credit* for participating and you'll be in the driver's seat of testing the future of smart EV charging. All you need to do is plug in and charge using our smart EV charging app.
$34.50 monthly credit*

Get $34.50 Meridian account credit every month you participate during the four month trial and complete 8 smart charging sessions per month*.

Optimised EV charging

The trial app will optimise the charging of your EV by prioritising night and off-peak times when power demands are lowest.

You're still in charge

You set your charging preferences; we optimise them. Stay in control by easily overriding the app to charge any time.
Keen to join the smart EV charging trial?
We want to hear from you! The trial has a planned launch date of 1 July 2023 and will conclude on 31 October 2023.
Frequently asked questions
How long is the trial and when does it start?
The trial has a planned launch date of 1 July 2023 and will run until 31 October 2023.
What will I be expected to do during the trial?
You'll be expected to plug in your EV to charge using your home charger or three prong plug – even if you don't need it to start charging immediately. Then using the smart EV charging app 'Power Move', you'll set your desired battery percentage and a finish time e.g., 95% charge by 7am.
You'll also be expected to regularly provide feedback to our friendly research team by completing surveys or through scheduled phone calls.
Do I need to be on the Meridian EV Plan to join the trial?
No, you don't. You can be on any Meridian power plan. However, if you own an EV, you may find the EV Plan works better for your specific charging needs. Learn more about our EV Plan.
What happens if I move home during the trial?
No problem, you can still be part of the trial. Just let us know and we'll guide you through the process.
How will the Power Move app manage my EV charging?
The Power Move app will connect to your EV and automatically optimise your charging schedule based on the charging needs you define (e.g., 80% charge by 8am). Power Move is built so that is always meets the charging schedule you have set so that your car is charged when you need it.
If you need to, you can override the system anytime and charge immediately using the 'Boost' function on the Power Move app, or through your EV manufacturers app.
Note, the Power Move app is only able to connect to one EV for the trial.
How does the Power Move app connect to my EV?
Power Move will connect to your vehicle in the same way as your manufacturer's EV app. The only difference is that the Power Move app will periodically instruct your car to start or stop charging when plugged in at home to maximise the use of cheap, off-peak energy.
Power Move does not interact with any other aspect of your vehicle, and it can only schedule your vehicle to start and stop charging when you're at home. The trial does not affect any out of home charging you may use.
Can I continue to use my manufacturer's EV app?
Yes, absolutely. Your car's manufacturer's app will continue to work as normal. If you manually set a charging schedule in your manufacturer's app, it will be automatically overridden by the Power Move app unless you opt out and charge immediately using the 'boost' function.
What happens when I leave the trial?
If you would like to leave the trial at any point, you can. If you do exit the trial, there is a button within the Power Move app that disconnects your vehicle. Once your EV is disconnected Power Move will stop sending charging schedules to your vehicle, and your vehicle will no longer be connected to the trial.