Aotearoa has a long way to go to make sure that we hit our climate goals before it's too late. Our Government has a plan and at Meridian, we're right behind them in our commitment to do what we can to help New Zealand reduce its emissions.
We're in this together and while there's no magic to it, we've got some tricks up our sleeve to help get stuff done. Decarbonisation is key in helping reduce New Zealand's carbon emissions and using electrification as a solution for process heat is one way that we can make a real and fundamental difference for our future.
It's an opportunity that we must grab with both hands. So, that's exactly what we are doing. This is an update to let you know that our decarbonisation programme is taking off. In fact, we've already helped a number of customers with their GIDI round 2 applications.
What does this mean?
Jargon heavy isn't it? Don't worry, that's what we're here for. Because thanks to all the experts we've got on board, we speak both languages.
The Government Investment in Decarbonising Industry (GIDI) Fund is a partnership between Government and businesses, formed as part of the Governments 2021 Emissions Reduction Plan. The fund is to help get the decarbonisation of industrial processes off the ground and remove some of the financial barriers, making it possible for businesses to follow their decarbonisation dreams.
Wool's leading the way
In the first round of GIDI applications, there were 14 successful projects that have used the GIDI fund to help them on their journeys away from fossil fuels. Together, their greenhouse gas emissions reductions are equivalent to taking approximately 49,000 cars off the road!
Taking some big strides is WoolWorks – New Zealand's wool scouring plant and the first of its kind to decarbonise. Here in New Zealand, we're no strangers to wool. We know that before it becomes a jumper or soft carpet underfoot, it's got to be cleaned and that's where WoolWorks comes in. The wool gets washed in machines up to 100 metres long, three metres wide and containing 27 cubic metres of water. Not your average washing machine and safe to say that heating the water and running the machines have some pretty serious energy costs.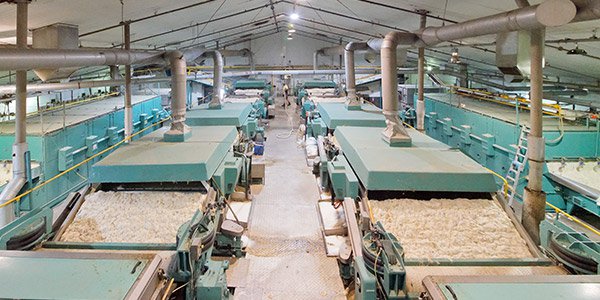 Keen to follow WoolWorks lead?
WoolWorks have always had their eye on their footprint on the planet. They've been on track to reduce their dependence on coal, but with the costs involved, the end result was still a decade away. The support they've received from Meridian to kickstart their project, along with GIDI funding, means that their project to switch to an electrode boiler system will be fast tracked and they expect to make reductions of over 11,000 tonnes of carbon dioxide emissions. To put that in perspective, that's about 3,000 cars off the road.
"Through this project we will provide the New Zealand wool sector with a unique low-carbon start to the global supply chain, which we believe will support increased demand for New Zealand wool. Rather than planting our way out of the climate change problem by purchasing pine trees to offset our greenhouse gas emissions, we are choosing to do the right thing by the environment and actually reducing our emissions."
"This was all about doing the right thing for the business, doing the right thing for the environment, and working with great partners such as EECA and Meridian Energy." – Nigel Hales, CE, WoolWorks.
Meridian is really excited to be part of the process with WoolWorks as well. Our CEO, Neal Barclay says "WoolWorks is showing real climate leadership at a critical time. Meridian is proud to partner with WoolWorks to help reduce their environmental impact and demonstrate their commitment to climate action to their international customers."
If you're in the food processing, indoor cropping, dairy, space heating industries in the South Island – then electrifying your process heat system is an awesome way to reduce your carbon emissions. And while in the past, this process has been pretty difficult financially speaking, this isn't the case anymore. At Meridian, we reckon we've come up with a way to make process heat electrification not only a reality, but also commercially viable.
In fact, it's an absolute game changer – it's cost competitive with solid fuel alternatives and on top of being affordable, it's cleaner and it's quieter. Through our Electrification Programme, Meridian can offer*:
competitive pricing with reduced rates for projects that replace fossil fuels with electricity
long term price certainty with fixed pricing contracts for up to 10 years
funding support to assist with your project.
*eligibility, terms and conditions apply.
What's more, our Electrification Programme uses Meridian's Certified Renewable Energy product. This allows our business customers to match the amount of electricity they use from the grid on an annual basis, with the amount of electricity put into the grid from one of Meridian's hydro stations[LP8] [SS9] or wind farms – which have been certified as producing 100% renewable energy. So, with our Electrification Programme, you're definitely getting more bang for your buck – you get to double down on your sustainability goals and show your customers, partners and communities that you give a damn about the future of our planet.
That's about the long and short of it. Pretty exciting stuff isn't it? If you're in the South Island and looking to get into electrification, we're here to help you out. Get in touch and our experts can give you all the info that you need to get started. You'll be taking an important step towards combatting climate change and trust us, you won't look back.