Meridian Energy is trialling new vehicle-to-grid and smart charging technology as it works towards the launch of a virtual power plant that will provide greater flexibility to New Zealand's electricity system.
The company is currently running a smart charging trial, giving 50 Tesla and BMW EV owners the opportunity to test new technology that optimises the charging of the EV in response to market demand and pricing, while making sure the vehicle is charged and ready when the driver needs it.
Meridian is also trialling a bidirectional charger at its Christchurch office that could pave the way for widespread use of this technology across all models in New Zealand's growing EV fleet.
Meridian's Head of Energy Innovation, Ryan Kuggeleijn, says, combining the power of this new technology with EV batteries and other flexible demand will enable the creation a virtual power plant big enough to play a key role in New Zealand's decarbonisation journey, saving customers money, helping the electricity system manage periods of peak demand and enabling further electrification.
"EVs can store electricity and, with the number of these growing by the month, there is a huge source of energy that is potentially available during peak periods and can then be replenished when there is less pressure on the grid," says Ryan Kuggeleijn.
"This can reduce electricity costs for customers and shift demand to times of the day when demand is low and renewable generation tends to be higher. Rather than topping up your EV when you arrive home from work, the power left in the battery can be used to cook dinner and heat up the home, while also feeding the grid before the battery is topped up again while you sleep."
"The real game changer, though, is for the stored power of EVs to be combined with the use of other customer-owned sources, such as hot water cylinders, home solar and industrial heating and cooling processes, to create a virtual power plant, with smart technology used to dial the plant up or down as required. This would offer all the same benefits of using EV batteries, but on much a bigger scale and one that could benefit all electricity users," says Ryan Kuggeleijn
The size of a Meridian virtual power plant would depend on the uptake of vehicle-to-home/grid and other demand response options available from its residential and business customers, with the ability to easily scale up over time and be complemented by other virtual power plants.
However, the collective potential of virtual power plants set up by Meridian and other companies could quickly add up.
"New Zealand is forecast to have close to 80,000 light fleet EVs by the end of 2023. That alone is enough to store 5480MWh of electricity, which is enough to power around 270,000 kiwi homes for one day," says Ryan Kuggeleijn.
"While this stored energy won't be able to all be used at once, the collective potential of virtual power plants set up by Meridian and other companies across New Zealand will quickly add up."
ENDS

For media queries, please contact:
Philip Clark
Head of Communications
022 589 1052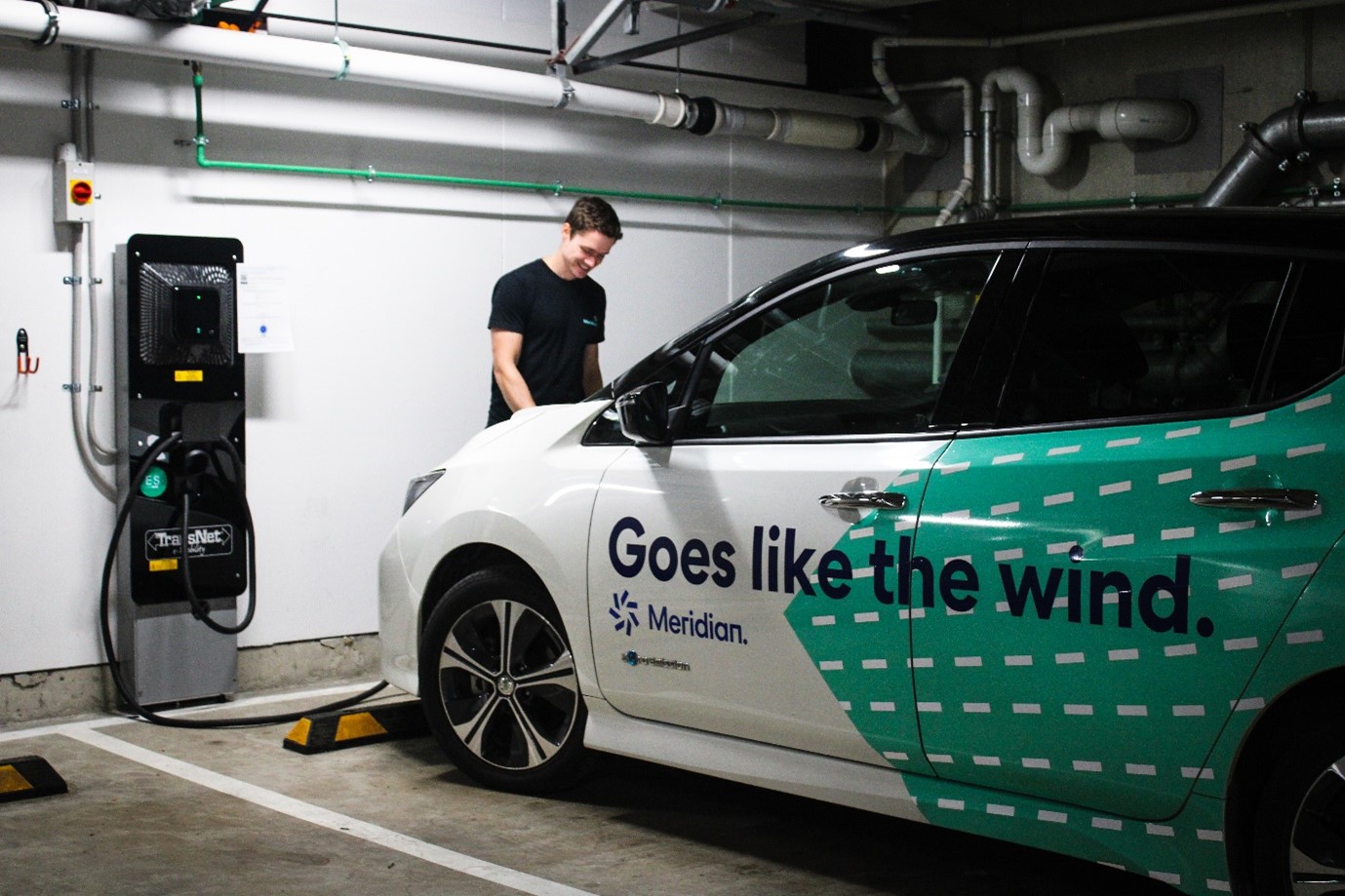 A Meridian Electric Vehicle plugged in to a Vehicle to Grid charger