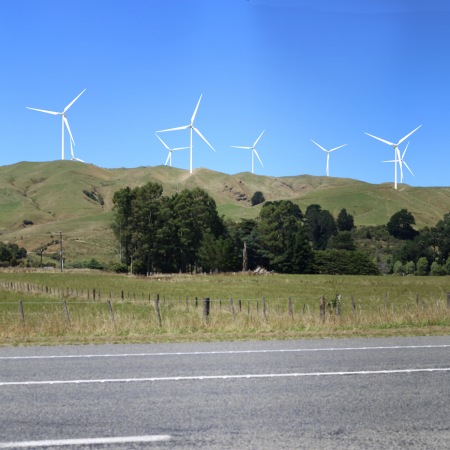 Mt Munro wind farm proposal
We're proposing to develop a wind farm at Mt Munro, approximately 5km south of Eketahuna in northern Wairarapa.
Details on the project are below:
The wind farm would have up to 20 wind turbines within three privately owned properties, which would continue to operate as working sheep and beef farms.
It would produce around 300 GWh of renewable energy annually, enough to supply up 42,000 average homes.
The turbines would be spaced in a way that makes best use of prevailing wind conditions on the site and that also balances any potential effects.
The turbines will have a blade diameter of up to 136m, and maximum height above ground level to a tip height of up to 160m and an approximate capacity of approximately 4.5 MW each.
Up to 14 turbines would be closely spaced along the site's main ridgeline envelope area (blue shaded area on map), with two further groups, each up to three turbines on lower hills to the northwest of the main ridge.
Access to the site for construction and operation is via Old Coach Road North. Internal wind farm roading is based on existing farm tracks.
The 3.5km transmission line connecting the wind farm to the national grid would use steel or concrete poles up to 20m high.
The substation would be located near the point near where the transmission line connects with the Transpower 110kV line, on the corner of Kaiparoro Road and SH2.
What happens next?
We lodged our resource consent application on Monday 22 May 2023 with the relevant consenting authorities – Horizons Regional Council, Greater Wellington Regional Council, Masterton District Council and Tararua District Council.
The Councils have now publicly notified the application and the submission process has opened. We encourage everyone to make a submission.
All information on our resource consent application and the submission process can be found on the Horizons Regional Council website by clicking on the link below:

Mt Munro wind farm project visual simulation

Mt Munro wind farm project site map and location