Sustainability
Sustainability defines who we are.
Meridian's commitment to sustainability leadership is concentrated on areas where we know we can make a meaningful difference.
Our sustainability framework focuses on two of the United Nations' Sustainable Development Goals – SDG7 Affordable and Clean Energy, and SDG13 Climate Action.
SDG7: Affordable and Clean Energy
Ditching prompt payment discounts
Meridian Energy was the first New Zealand electricity retailer to remove prompt payment discounts (PPDs). Why? Because we believe that prompt payment discounts are unfair, but mostly to those who struggle to pay their power bills or are late for a payment date. We replaced PPDs with new lower tariffs that are simpler and easier to understand.
The recent Electricity Price Review commended our actions. We're proud to be industry leaders in this area by making a decision that's fairer for all.
Supporting vulnerable customers
We're committed to supporting our most vulnerable customers. Whatever their circumstances, we want to keep the power on. So, we're flexible with options for payment arrangements, we offer LevelPay to make budgeting easier, and we're always looking to make sure they're the power plan that's best for them.
SDG13: Climate Action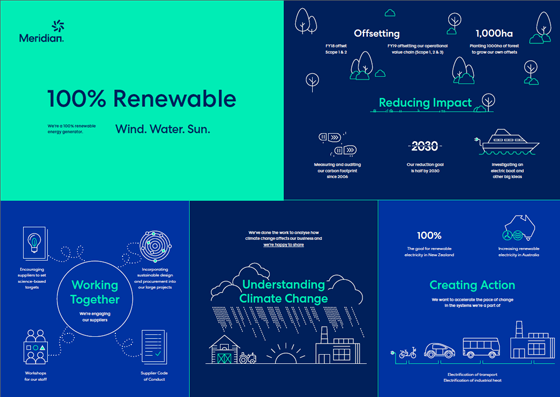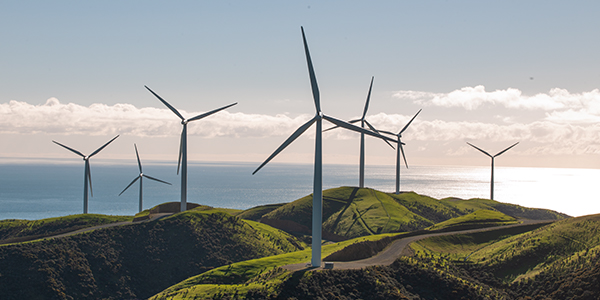 Targeting zero carbon
Since 2006, we've been reporting our greenhouse gas emissions inventory annually. This shows the amount of greenhouse gas emissions that can be directly related to the Meridian Group.
From 30 June 2019, we're net Zero Carbon across the operations of the Meridian Group, through purchasing and retiring Gold Standard Verified Emissions Reductions. We're also planting forests to grow our own offsets.
And we've set an ambitious target of halving our Group operational emissions by 2030.
We've also taken the time to develop a deep understanding of how climate change may impact our business now and into the future, using the recommendations of the Taskforce for Climate-related Financial Disclosures.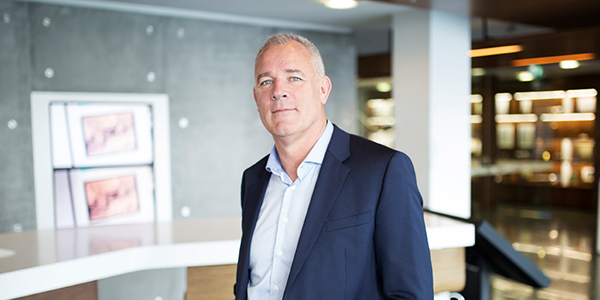 Signing the CEO Climate Change Statement
Along with more than 100 other businesses, Meridian has signed the CEO Climate Change Statement which encourages all companies to see climate change as a critical business issue. 
Our signature is a commitment to measuring, reporting on and reducing greenhouse gas emissions in line with the Paris Agreement aspiration to keep global warming within 1.5 degrees.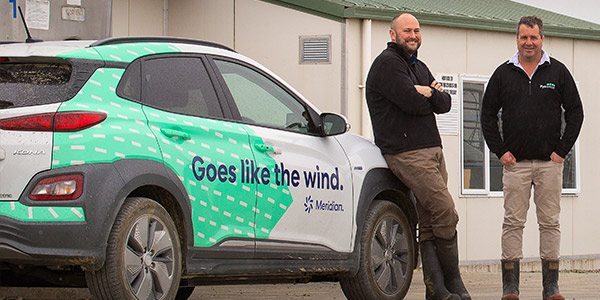 Accelerating the uptake of electric vehicles
At Meridian we're big believers in electric vehicles. Our fleet will be 90% electric by 2020, and we're a Drive Electric board member. We're keen to help our customers, and the rest of New Zealand, with driving electric. It's one of the biggest opportunities the country has to reduce emissions.
Our competitive Electric Car Plan offers our customers low night rates for charging vehicles. And, with support from EECA's Low Emissions Vehicles Contestable Fund, we're enabling more people to experience the benefits of electric vehicles. We're installing charging stations at some of New Zealand's most popular tourist destinations, and we're always considering opportunities to expand this further.
Solar power
We're proud to be leaders in large-scale commercial solar. In June 2019 we turned on the sun at Christchurch's Northlands Mall, in partnership with Kiwi Properties and Reid Technology. It's part of New Zealand's largest commercial programme, which will see solar arrays on shopping centre rooves in Palmerston North, Hamilton and Auckland. The programme will make Kiwi Property New Zealand's biggest solar power user.
Northlands' array of 672 panels will generate 200,000 kWh of electricity per year. That's enough to power the equivalent of around 30 households or 100 electric vehicles for a year.
We also support customers who generate their own solar power or want to get set up for solar. When they generate more than they use, we purchase the electricity back from them at a competitive rate.
Keen to harness the power of the sun and generate your own renewable energy?
Process heat electrification
Part of being a leader in sustainability means providing advice and expertise to others in a bid to reduce impacts and help combat climate change. The energy sector has an important part to play in converting other industrial users of fossil fuel technologies to renewables.
Climate change and NZ's renewable electricity generation
Meridian recently shared some analysis about how the impact of climate change on lake inflows and wind generation is incorporated into our modelling.