Imagine standing at the edge of Auckland's Eden Park, then multiply that scene until it stretches as far as you can see, covering an area of more than 1,700 similar-sized fields. This is the scale at which Meridian Energy has committed itself to invest in permanent native forests across Aotearoa through its Forever Forests programme.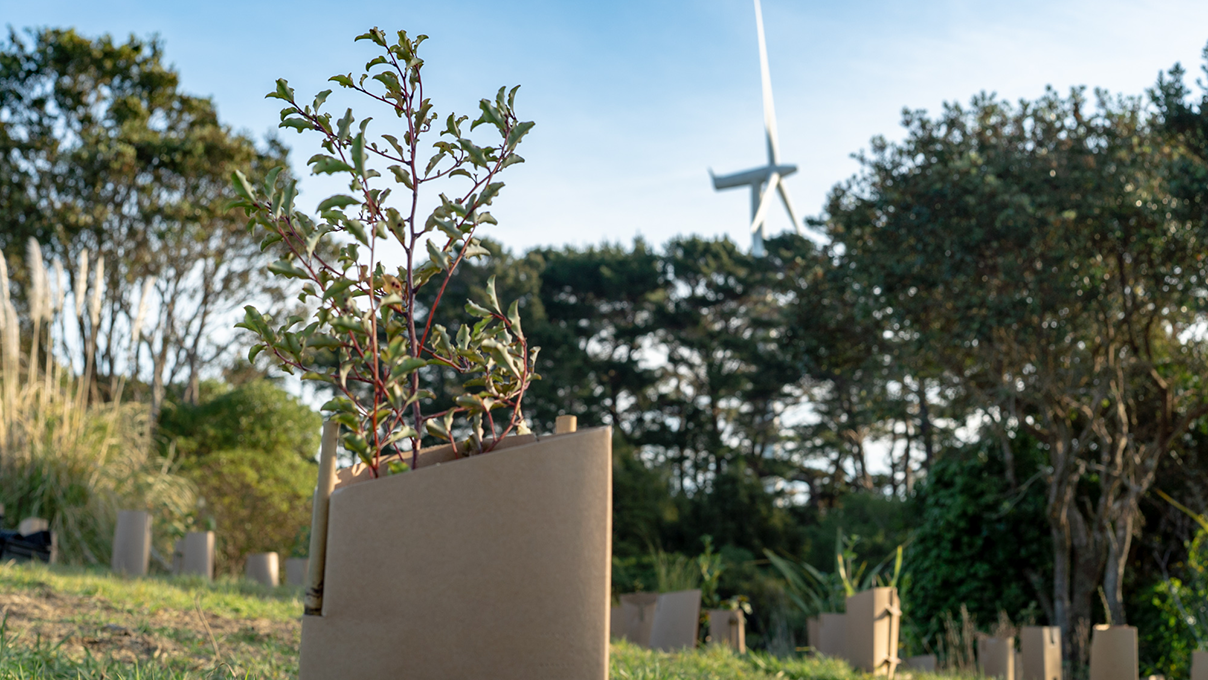 The original idea was to plant only on land owned by Meridian, but the company soon recognised that its property holdings were not going to be sufficient. It was here that Forever Forests began to evolve from a standalone corporate project to offset carbon emissions, into a broader programme that is looking to partner with like-minded landowners around Aotearoa.
Meridian now has 1,214 hectares of land dedicated to the Forever Forests programme. To date, around 300,000 trees have been planted on 350 hectares of this land, with another 600,000 set to be planted over the next couple of years.
The company is now also planning to offset even more of its emissions through Forever Forests, including those left over from its wind and solar farm construction activities. So instead of just balancing out the original target of 15,000 tonnes of carbon, Meridian is setting its sights higher and will make an even bigger dent in its carbon footprint in the coming years.
Another evolution of the programme is the number of native plants Meridian is getting into the ground. Initially, the company used a mix of 90% exotic and 10% native tree species, with the faster-growing exotics providing cover for the natives to become established.
Now, the ratio is 60% exotic and 40% native, including passive native regeneration in the areas where Meridian Energy is planting. This is a big increase in the number of natives and comes down to lessons learned since the programme started in 2019.
But perhaps the greatest evolution of Forever Forests is the opportunities it has created for community engagement, including native-only plantings involving Meridian staff, and partnerships with entities like The Christchurch Foundation. This has led to a 'Tui Corridor' being planted between Banks Peninsula and the Christchurch CBD to bring tui song back into the city, 34,000 native stems in total.
With this community buy-in, the programme has significantly expanded its focus from carbon offsetting to broader biodiversity outcomes. For example, Meridian now has enhanced pest control measures in place, to protect not just the trees but also the wildlife within these forests.
Just five years on, Meridian is extremely proud of the progress it has made, excited by how far it has lifted its sights from its initial goals, and humbled by the number of New Zealanders that have rolled up their sleeves and joined in, either through donating land or by joining one of their community planting days.
It's clear that Forever Forests is now much more than a carbon-offsetting or tree-planting project. It's a symbol of change and a testament to the power of collaboration. It represents how much can be achieved when businesses, communities, and individuals come together for a common cause.
It's a hugely rewarding journey that Meridian is proud to be part of and one the company knows has only just begun.
Sustainability, it's in our nature
Sustainability is a driving force for Meridian. When it comes to taking care of Papatūānuku (mother earth), we say what we mean, and we do what we say. We're funding local asset community projects, protecting wildlife, and planting Forever Forests – and it doesn't stop there. Find out more.