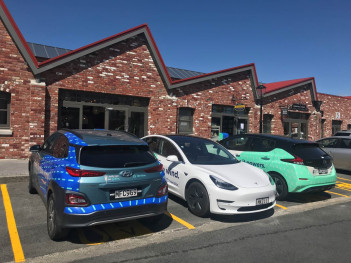 Meridian Energy has achieved a 100% fully-electric light passenger vehicle business fleet in just over three years, nine years before its EV100 target.
By re-imagining its fleet through electrification and right-sizing, Meridian has removed 195 tonnes of carbon from its annual operational footprint, 130 tonnes through electrification of transport alone.
Meridian Chief Financial Officer, Mike Roan says, "Faster decarbonisation of transport is a key focus for Meridian, for our own fleet and for Aotearoa. We wanted to prove that electrifying a diverse fleet is possible."
"We also knew we couldn't take any shortcuts on our journey, it needed to be achieved with no additional fleet investment so our model is scalable for any New Zealand organisation."
Bringing their own people and other businesses on their journey was key.
Procurement and Property Manager Nick Robilliard says "When I presented at Drive Electric events and to local councils around New Zealand, my first warning is always that kiwis have a bit of a 'thing' for cars."
"You can't replace a Ute, even if it never goes off road, with a hatchback. But your team's ears will prick up if you turn up with an electric crossover, it's as much about the culture fit as it is the technical specs."
In addition to a culture fit, Meridian achieved its fleet conversion in record time through:
Using GPS data to measure and record trips, enabling fleet requirements to be reassessed.
Setting up charging infrastructure at Meridian's thirteen sites
Sourcing and testing a mix of the right vehicles for fleet requirements.
The final fleet challenge was the last 20%, the remote workers. The Meridian Agriculture sales team travel up to 250km in a single day on rural roads, without getting back to the office for an overnight charge. For the transition to electric vehicles to be successfully implemented in this environment, Meridian created a New Zealand first, a turn-key solution for home-based charging for staff. Robilliard says,
"It does require a mindset shift to look at fleet management as more than a short-term plan, but converting your business passenger fleet to zero emissions is possible, right now, and in less than three years."
With an average of 21% of New Zealand's carbon emissions emitting from transport, Meridian continues to share its experience, supporting organisations of all fleet sizes, from large corporates to local councils, on their electrification journey.
| | |
| --- | --- |
| Learn more about | Or check out our |