Kākāpō Recovery Programme
Meridian and the kākāpō.
How we're helping renew a species.
One of the more colourful creatures in New Zealand forests, the kākāpō is an endangered national treasure, with a current population sitting at around 200 birds. At Meridian, we have teamed up with the Department of Conservation to support the Kākāpō Recovery Programme, which aims to get kākāpō off the endangered list and back to their former natural range.
And it's not just a partnership between us and DOC. We work closely with Ngāi Tahu. "Kākāpō are treasured by Ngāi Tahu as a taonga species, they are part of our tribal identity and it's wonderful to see that Meridian values them too," says Tāne Davis, the Ngāi Tahu appointee to the Kākāpō Recovery Group.
Meridian's involvement helps fund research and initiatives relating to genetics, nutrition, disease management and finding new sites. It also helps raise awareness of the plight of kākāpō.
At Meridian, we're proud to support the mahi of the Kākāpō Recovery Programme. Keen to do the same?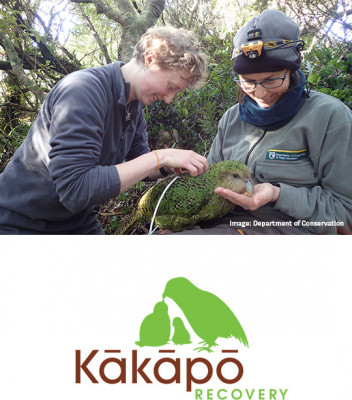 Smart Eggs. The future of breeding.
One of the innovations we're helping fund is the Smart Egg, a 3D-printed egg that helps with the incubation process. (But these eggs are only useful after breeding kicks off, which is why we're also providing them with saxy saxophone music to get them in the mood.)
Often once a kākāpō lays an egg, the egg is removed from its nest and hatched in an incubator, and a dummy egg is placed in the nest in its place.
That's where Smart Eggs come in. Smart Eggs mimic the sound and motion of a real egg, ensuring both the mother and nest are prepared for the arrival of the chick after it's hatched and is returned to the nest.
Smart Eggs also keep track of other useful data, like the temperature and humidity of the nest. All this results in a higher hatching rate than the natural approach.
Developed in collaboration with the International Centre of Birds of Prey, if Smart Eggs are a success with the Kākāpō Recovery Programme, they could be used with many other endangered species around the globe.
Latest update
The lead up to the holiday season is a busy one for everyone and that includes the Department of Conservation's (DOC) Kākāpō Recovery team. They're anticipating that our feathery friends are going to have a pretty decent breeding season this summer and preparation has been in full swing.
The team's been busy planning for this breeding season since 2016 with regular health checks for the birds and collecting data, and now it's all systems go. The island huts have been packed with all sorts of supplies. They're bursting with everything from loo roll to chocolate, baby bird formula to egg scoops made from tea strainers.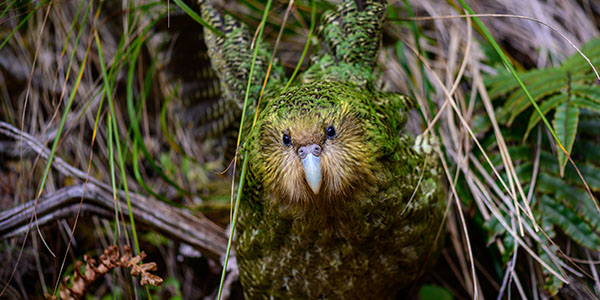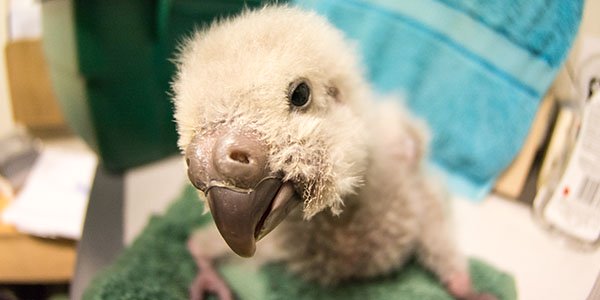 Volunteers are already busy out on the islands, hiking the tracks and providing supplementary food for the kākāpō to get them ready for the business time ahead. A huge amount of work has also gone into installing new infrastructure on the islands. More reliable and sustainable power systems have been installed, and an additional room has been added to Anchor Island for incubating eggs. The chick pens have been upgraded and new facilities have also been added to Te Kākahu-o-Tamatea (Chalky Island, down in the southern fiords). This is the first time that Te Kākahu has been used as a base for breeding.
All this work and not an egg in sight might seem a little presumptuous. But nature's got a way of giving us the heads up and the writings in the rimu trees! Rimu are a masting species – which means that they produce mass amounts of fruit every few years, triggered when the environmental conditions are just right. Each autumn, DOC survey how much fruit is developing on the trees of Anchor and Whenua Hou. The amount of fruit lets the DOC rangers know if we should expect a breeding season the following summer. And this year there's a good crop.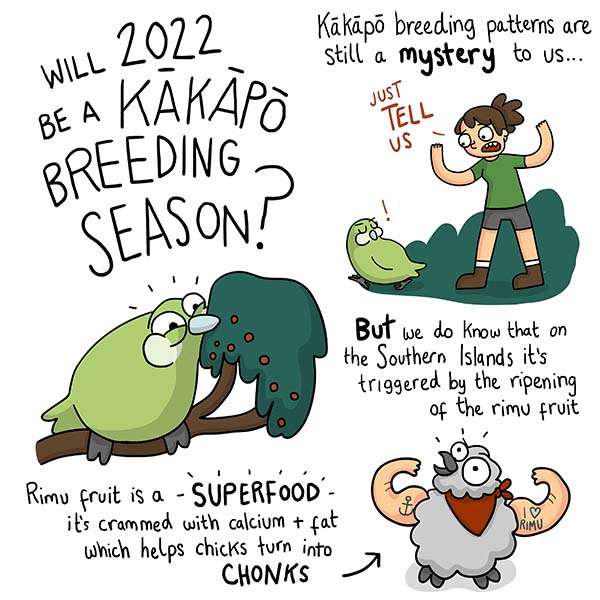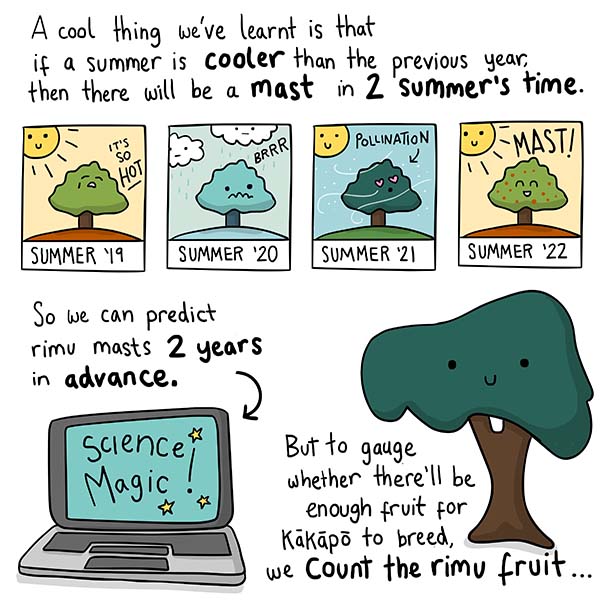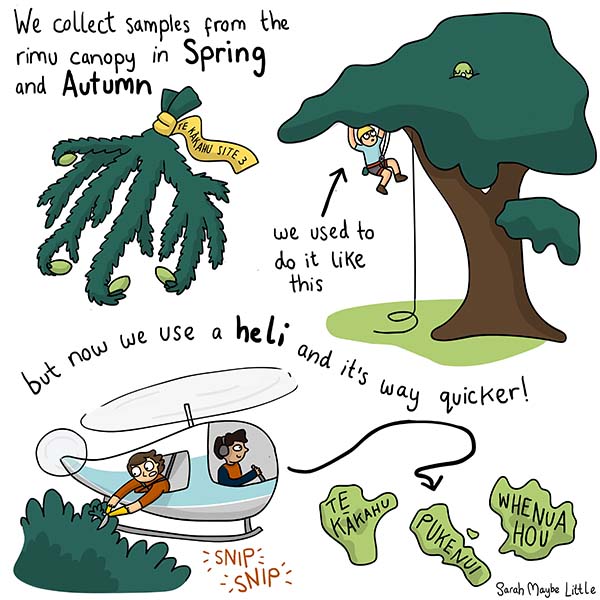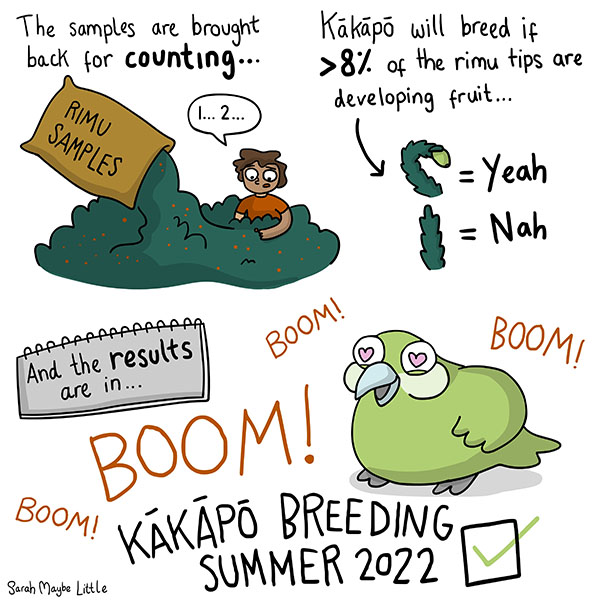 So now it's a few quiet weeks of getting the last few jobs done and just waiting for the kākāpō to get down to it. The Kākāpō Recovery team will be making the most of the holidays while they last as they'll be busy soon enough.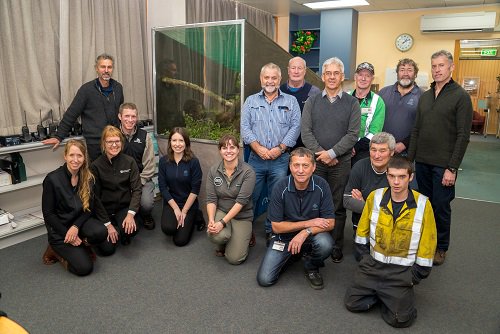 To celebrate Meridian becoming the national partner of the Kākāpō Recovery Programme, the newest chicks visited our Manapōuri hydro power station.
Here's the group representing DOC, Meridian and Ngāi Tahu on the day, with the kākāpō in their custom-built viewing enclosure.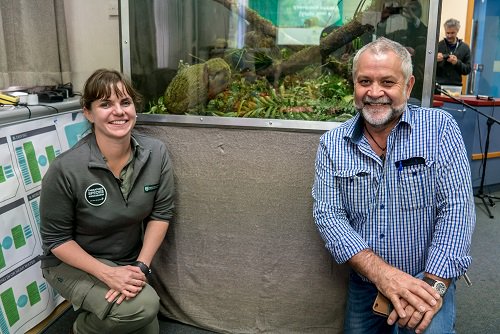 DOC Threatened Species Ambassador Nicola Toki and Manapōuri site manager John Twidle with visiting kākāpō in their custom-built viewing enclosure at Manapōuri hydro power station.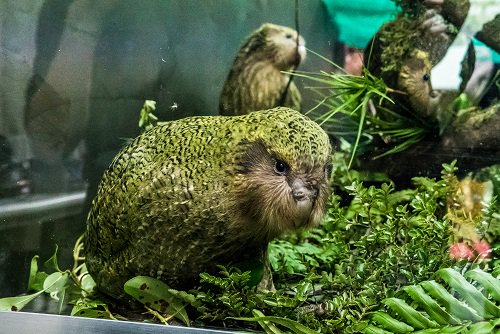 The Kākāpō Recovery Programme is a world class conservation effort that has been in place since 1990, working to bring kākāpō back from the brink of extinction from a low of just 50 birds in 1995.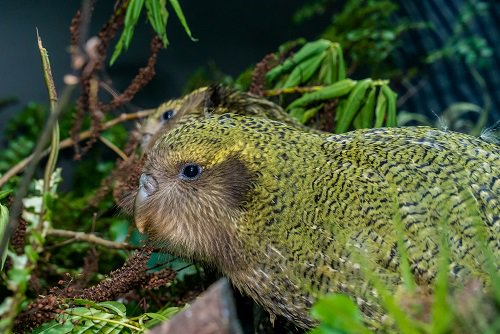 Kākāpō are native to New Zealand and are listed as a critically endangered species, with around 160 known surviving birds as of June 2016.
Meridian's partnership with DOC will help to develop kākāpō conservation techniques, particularly through research on genetics, nutrition and disease management.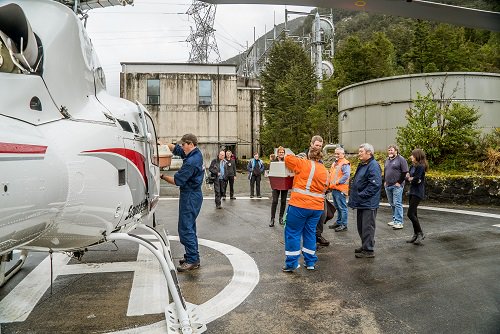 After their visit to Manapōuri hydro station, the kākāpō chicks were transported by helicopter to Pukenui/Anchor Island for release into the wild.