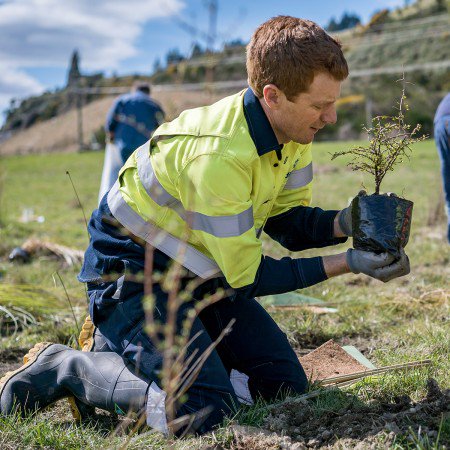 Ramping up Forever Forests
Did you know Meridian has been carbon neutral since 2019? This means for every carbon emission we produce, we offset the same amount of carbon.
Right now we offset these emissions by purchasing gold standard carbon credits. In other words, we fund the removal of emissions from outside of our business.
With our Forever Forests underway, we're working to offset carbon emissions from within our business.
It's part of our Half by 30 programme, which is our challenge and commitment to halve the total operational emissions that we produce by 2030. And then, the amount of emissions we do produce, we want to offset with our forests.
Absorbing carbon with our Forever Forests
Forever Forests is one of the ways that we're taking action for you and our planet.
We're planting up to 1.5 million permanent native and hardwood stems in over of 1100 hectares (ha) of ground, aiming to complete the programme by 2025. It's our carbon emission 'DIY' project that began in 2019 and we've been donning our gummies and spades ever since.
How do we plant the right tree in the right spot, at the right time? With a lot of careful planning and assessment!
By using a mixed planting method, we aim to compliment the unique ecology of each site, while also helping to absorb carbon efficiently.
Here's an example: exotic trees generally grow faster, and suck carbon from the atmosphere faster, creating a safe space for the natives to flourish in their own time. Natives will eventually take over in the long term, leaving future generations with beautiful native forests to enjoy.
A successful planting season, with more on the way
We've planted our first permanent forests on Meridian-owned land around our generation assets - at Manapōuri, Lake Benmore, Lake Aviemore and West Wind Farm.
We're thrilled with the success of these planting events, and we've registered these new forests with the New Zealand Emissions Trading Scheme (NZ ETS). As a result, we've received our first block of carbon credits from the Ministry for Primary Industries (MPI). There's still a lot of mahi to go to achieve our goals, but to start with, we're counting this as a win!
We've just finished infill planting at West Wind which saw our Meridian people and volunteers dig in and plant approximately 1,500 more trees to fill in gaps. Everyone had a great day and it's not surprising that planting trees isn't just good for the planet, it's good for the soul too!
Now that we've finished planting in Meridian land, we're working with private landowners, communities, iwi and rūnaka (South Island iwi) to find land to reach our target. In the last year, we've purchased 360ha of land around the South Island, including Hook Bush in South Canterbury, Kotuku on the West Coast and at Maruia, near Murchison.
These three sites were planted throughout this winter and spring. They'll soon be home to approximately half of the 600,000 seedlings that we pre-ordered back in 2020, growing our Forever Forests build to 620ha. With fingers crossed that we hit our target of halving our operational emissions by 2030, it's just over half of what we need to ensure we can generate 15,000 carbon credits from 2030 to offset our remaining emissions.
Kotuku land keeping us on our toes
It turns out the trick to planting forests, is being ready to pivot at any moment.
Having a flexible and pragmatic approach means that we can make the best use of the land and adapt to what is needed for the local ecology. Kotuku is one example. This 160ha block of land was once a pinus radiata forest which was destroyed by storms and was subsequently overrun with gorse. Initially, the plan was to plant the majority as exotic redwoods, but as we've better understood the lay of the land, we've discovered significant areas of second-generation native growth. This means that we'll now change our planting model to focus on increasing the native regeneration as well as establishing redwoods, as we drive towards better ecological and biodiversity outcomes.
Keeping the mahi going
We're proud of the work we're doing with Forever Forests and it's not the only way we're taking action, or looking to reduce our carbon emissions to achieve our goals for a net-zero carbon future. We've got a range of ambitious projects on the go and in the pipeline, including the build of our sixth wind farm, Harapaki, and the roll out of our nationwide EV charging network, Zero. These projects are extremely ambitious but we know it's worth it, because doing everything we can to help Aotearoa decarbonise is a priority for us, our communities, and our planet.