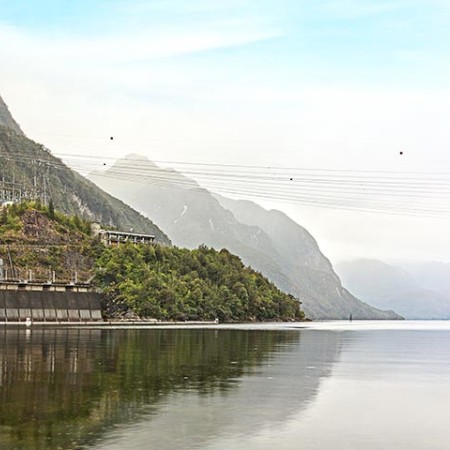 Manapōuri Power Station celebrates 50 years
We've just celebrated a milestone birthday in the Meridian family. Our Manapōuri Power Station turned the big five-oh last year, and while some people might want to keep this number quiet, we certainly don't. We're very proud of Manapōuri – it's the jewel in our hydro crown! Due to COVID-19, we weren't able to celebrate last year, so we threw it a big fat birthday celebration this year instead.
Most of you will know about Manapōuri Power Station. But, since it's kind of a big deal, we thought we'd do a bit of a humblebrag and tell you a bit about the power station, its history and how we celebrated this amazing milestone.
The mighty Manapōuri Power Station
The station is located in the South Island, in the Fiordland National Park, which is also a UNESCO World Heritage site. It's the largest hydro station in New Zealand and, operating at its max, it can produce up to 800 megawatts. In other words, each year, it can power about 619,000 average homes. Now, that's a lot of energy.
Manapōuri is built a bit like an iceberg. There's not much that's visible above ground, especially with all the regeneration of the native bush surrounding it. But where things really get exciting is underground - 200 meters underground in fact. The seven hydro generating units sit in a huge cavern in the rock below Lake Manapōuri. Without getting too deep into the details, the water from Lakes Manapōuri and Te Anau, rushes down the tailrace and through the station's generators then through two 10-meter tunnels into Doubtful Sound's Deep Cove, generating the electricity which is then sent to the national grid.
The construction of Manapōuri was no mean feat. In fact, it remains one of the greatest engineering achievements in New Zealand's history. First considered in 1904, it wasn't until 1964 that it all kicked off, and over the next eight million-ish hours, 1,800 workers removed approximately 1.4 million tonnes of rock by drill and blast excavation methods. Fairly dangerous and dramatic stuff to say the least.
In the Fiordland National Park, the weather alone is wild and unpredictable, with freezing temperatures in the wintertime. It's a large, rugged and lonely part of the world and at the time, there was little available in the way of amenities. For the first while, workers lived on board the Wanganella, a trans-Tasman liner which was brought into moor in Deep Cove as a floating hostel. The development of a gymnasium, post office, canteen and eventually the Manapōuri Village no doubt made a difference, but it certainly sounds like a challenging and isolated life to sign up to.
We haven't even mentioned the sandflies…
All in the name of history, though right?
Historic it was and so it remains. While the construction of the power station was indeed an engineering feat of significant proportions, but it was also significant for other reasons. It was, in many ways, the inception of New Zealand's unique environmental consciousness on a national level and the first environmental movement to have a political influence.
We've already established that Fiordland is a large and wild place. But did we mention that it's breathtakingly beautiful? Not that we need to – us Kiwis are pretty on top of how stunning this country is. So, it's understandable that when it was suggested that the environment be compromised in the name of electricity generation, things got a bit heated.
When the original plans for the hydro station were proposed, the intention was to raise the level of Lake Manapōuri by almost 30 metres. This would see it join with lake Te Anau, creating a super-lake with enormous hydro-electric potential. But this would also have resulted in Lake Manapōuri's wooded islands and the shoreline beech forests disappearing into a watery grave. And the locals and many other Kiwis, well, they weren't having it.
As the potential environmental impact started coming to light, grassroots opposition started to grow. Spearheaded by local sheep farmers and the Forest and Bird Society, protests, letters of support, committees and public talks formed what became known as the 'Save Manapōuri' movement. In 1970, more than a quarter of a million people (10% of the population at the time) signed the 'Save Manapōuri' petition and amazingly, the government heard them. In 1972 elections, Labour took government and confirmed that the lake levels would not be raised.
The Government created the Guardians of the Lakes Manapōuri, Monowai and Te Anau to oversee the management of lake levels. "Our brief as guardians was a mile wide. We were to recommend operational limits that would preserve the health of the lakes and the rivers that flow into and out of them. What a role! And it came totally out of the blue." – Sir Alan Mark, Chairman of the Guardians for the first 26 years.
A birthday fit for a queen
It's pretty clear that Manapōuri is hydro station royalty, and we reckon it deserves a fitting celebration to ring in its sixth decade.
What better way to do that than with a good old-fashioned reunion tour? Over a series of weekends, Meridian invited all those who've worked on the construction or at the power station since the beginning to get together again. This began with a tree planting and plaque unveiling on the side of Lake Manapōuri. This was in honour of the 16 men who lost their lives during the construction of the station. It was a beautiful moment and a great opportunity for those in attendance to reflect on the scale of the work achieved – which was, to be fair, extremely difficult.
They enjoyed an evening together for a bit of a chinwag and to view a film that we produced especially for the celebration. The following day, the group suited up in Personal Protective Equipment (PPE) to make the descent underground for a tour of the station, only to resurface for a cruise through the glorious fiords of Doubtful Sound.
Little legacies still live on…
Recently, Meridian was contacted by Margaret Westergaard, an 88-year-old woman whose husband piloted the boats in West Arm and Deep Cove as part of the original construction crew! While Margaret wasn't able to attend the festivities, she did produce a couple of treasures leftover from the golden days.
Turns out that not only did a power station come out of this project, but so too did beer! Margaret still had cans of both West Arm and Deep Cove Beer, almost 50 years old! She's donated them to us to keep as memorabilia which we think is very special.
To say thank you, we've made a donation on Margaret's behalf to the Te Anau rescue helicopter services. We all know that back then health and safety wasn't what it is these days and Margaret talked fondly about the people who helped with injuries and in medical emergencies.
Ka pai Margaret, thanks a lot for sharing your stories!