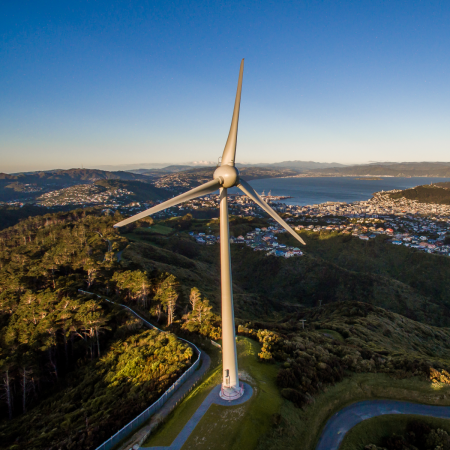 Brooklyn wind turbine
The Brooklyn wind turbine was New Zealand's first viable commercial wind turbine, located in Wellington, New Zealand.
Meridian owns and manages the Brooklyn wind turbine, which set international production records for its size.
The Electricity Corporation of New Zealand installed the original Brooklyn wind turbine in March 1993. It was part of a research project to find out how wind turbines perform in New Zealand conditions.
In winds of between 50km/hour and 80km/hour, the turbine would generate up to 225kW of electricity. The wind turbine generated enough electricity each year for about 110 average New Zealand homes. Power generated by the turbine was fed into the local energy network for general distribution in Wellington.
Why build a wind turbine here?
The Brooklyn site was chosen because of Wellington's strong winds. Its operation has provided valuable information in assessing the benefits of wind power generation in New Zealand.
Did you know?
The turbine is a popular Wellington landmark, attracting thousands of visitors every year.
Meridian inherited the single turbine when the company was formed in 1999.
Open hours:
| | | |
| --- | --- | --- |
| Summer | 1 Oct - 31 March | 7am - 8pm |
| Winter | 1 April - 30 September | 8am - 5pm |
New Brooklyn turbine
In April 2016 Meridian upgraded the Brooklyn turbine with a larger turbine that generates enough renewable energy to power around 490 average homes a year.
The decision to investigate a replacement to the aging Brooklyn turbine was made by Meridian after it experienced mechanical issues which put it out of action for several months.
Meridian asked Wellingtonians whether they wanted to keep the Brooklyn turbine. The public started a "save the Brooklyn wind turbine" Facebook page and a Dominion Post reader survey showed 85% wanted to repair or replace it.
General Manager of Markets and Production, Guy Waipara, says, "we're excited to be retaining such an important Wellington landmark and continuing to celebrate the benefits of windy Wellington."
The original 22 year old turbine was removed and delivered to its new owners Energy3, a supplier and installer of turbines for smaller commercial wind farms. It produced about 870 megawatt hours a year, enough to power 110 average homes.
The new turbine (Enercon E44) weights and dimensions are:
Tower hub height

Top section

Base section

Blade length

Resulting tip height

44m

22m

(15 tonnes)

21.95m

(32 tonnes)

20.8m

67m