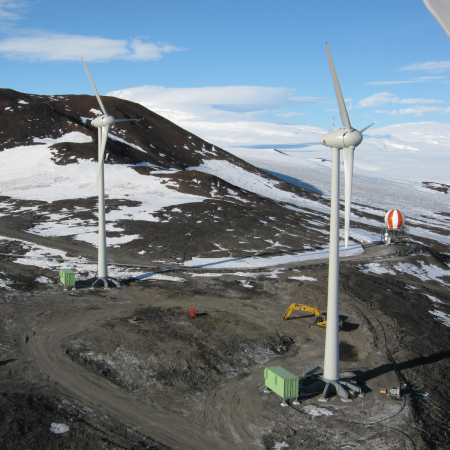 Ross Island wind farm
We built the world's southernmost wind farm in partnership with Antarctica New Zealand.
Located on Crater Hill on Ross Island, Antarctica, the three wind turbines supply renewable energy for New Zealand's Scott Base and its neighbour, the American base at McMurdo Station. The wind farm is owned by Antarctica New Zealand.
Why build a wind farm here?
The wind farm reduces the carbon footprint of the Antarctic operations, as well as the environmental risks associated with transporting diesel fuel. The bases' annual fuel consumption has been cut by approximately 463,000 litres. Greenhouse gas production from both bases has been reduced by 1,242 tonnes of CO2.
The wind farm was built on Crater Hill as it has a high average annual wind speed of 7.9m/s or 28.4km/hr at 39m (the height of the wind turbine's hub). Crater Hill is also one of the few ice-free areas on Ross Island.
Building Ross Island
The conditions for developing and building this wind farm were unique and challenging. We could only work on the site in the summer months, when there is daylight and conditions are slightly warmer. The project needed world-leading skills and innovative technical solutions – and that's where Meridian's expertise came in.
Key dates
2008

Construction begins
2009

Ross Island fully operational
Did you know?
The pre-cast concrete blocks used for the turbine's foundations weigh 13 tonnes each.