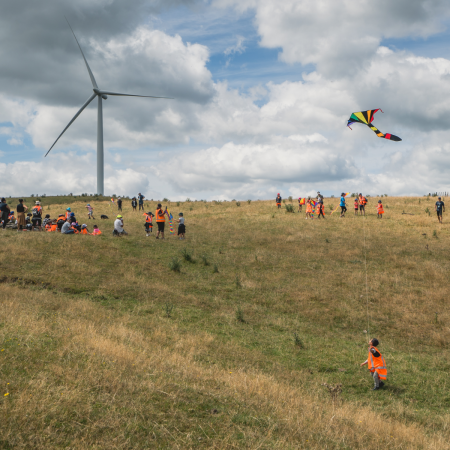 Te Uku wind farm
Te Uku is a 28-turbine wind farm located in Waikato, New Zealand.
The wind farm can generate up to 64.4 megawatts of renewable energy.
Te Uku wind farm generates enough electricity each year for about 27,000 average New Zealand homes. Te Uku is the fourth wind farm Meridian has built in New Zealand.
40,000 native plants were planted in two wetland areas on the Te Uku wind farm site to help improve water quality downstream.
Why build a wind farm here?
The Te Uku wind farm is located on a working sheep and cattle farm in the Waikato on the Wharauroa Plateau. The area has strong and consistent wind speeds, making it an ideal place for a wind farm.
The terrain in some parts of the site reaches heights of over 400 metres above sea level. The wind speed increases as it travels up the land forms.
Meridian built 26 kilometres of roads to transport the turbine parts to the wind farm.
The turbines were manufactured at two sites. The towers were built in Korea and the turbine parts in Denmark.
A 600 tonne crane was used to construct the turbines. The crane was shipped to New Zealand from Denmark by the KR Wind/NZ Crane Group Alliance especially for Te Uku.
Working in alliance with WEL Networks Ltd
Meridian built Te Uku in alliance with the local electricity lines company WEL Networks Ltd, which is owned by a community trust.
WEL Networks constructed the 25 kilometre, 33kV transmission line that carries the power from the wind farm to the network and the national energy grid.
Te Uku is the first wind generation project of its kind undertaken jointly by an electricity generator and retailer, and a lines company.
Community involvement
Involving the local community in the development of the wind farm was a high priority for Meridian.
Four local schools visited the wind farm during construction. A community liaison group was set up to discuss issues and be kept up to date on progress.
This group will continue to meet for the next two to three years as the wind farm settles into operational life.
More than $30 million has been invested in the regional economy by on-site employees. Nearly half of those working on site were from the Waikato region.
Key dates
2009 Construction begins
2010 Te Uku fully operational