Power for dairy
Call us now 0800 496 777
Dairy pricing and plans
Running a dairy farm isn't simple, and we know how your costs and power usage can fluctuate. We have a range of things that can help you work with the seasons and ensure you get the most out of your power. Power can be expensive when you start milking. We can work with you to figure out a plan that suits your business hours, locations and power needs. We've got your back.
Seasonal rates
Seasonal Fixed Energy Plans are the best fit for most spring calving operations (but we'll still talk to you if you winter-milk your cows. Or goats. Or sheep). With seasonal rates, during the months when your consumption's at its peak, your rates are at their lowest. We reckon that's a no-brainer.
This graph illustrates consumption and Meridian seasonal rates only. Your actual consumption and the rates charged to you will vary. The graph has been based on a single agribusiness customer's installation control point in the Waitaki region.
Day/Night pricing
You can also choose whether you'd like your rates to change during the day. In combination with a Seasonal Plan, Day/Night pricing can be a great way to keep the costs down. You'll have lower rates at night when you're not using as much power – a great choice for early morning milkers. But whether you milk once a day, twice a day, or somewhere in between, our agribusiness specialists can work out what's right for your sheds and pumps.
We know there's loads to consider. So give us a shout to discuss power for calving and drying-off, water heating, different milking frequencies and times, milk cooling and effluent and stock water pumping. We'll keep your dairy power plan in the right lane.
Don't just take our word for it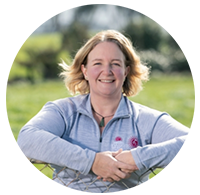 "They've got a really good relationship with farmers through the Dairy Awards, and they're always at the end of the phone when we need them. It's the familiarity with someone who knows your business, your goals, and sits down and talks through what you want. It makes a difference."
-Trish Rankin, Taranaki sharemilker and 2019 Dairy Farmer of the Year
Get a better price with your rural supplier
Paying through a rural supply company is the simplest way to pay your power bill — and you get a better deal.
We've teamed up with top rural supply companies so you benefit from mates' rates: that's pricing, services and terms to suit you. If you're with one of these companies, you'll get a sweet deal on your power with Meridian.
loading
Or one of our dedicated Agri team can get in touch with you.