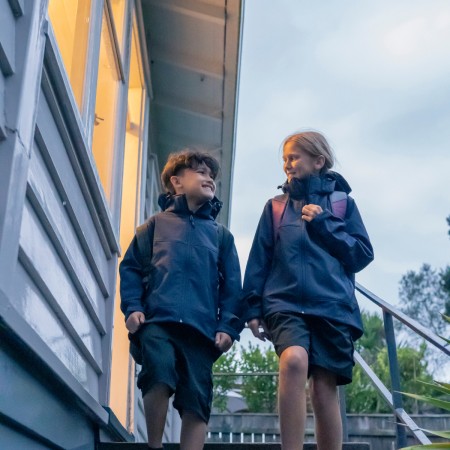 KidsCan is going electric
Driving towards a more sustainable future.
Meridian has been proud Principal Partner of KidsCan since 2013.
KidsCan support over 1,000 schools and early childhood centres across Aotearoa, to deliver the essentials kids need so they can get the best start in life – like food, shoes, raincoats and other essential items that help kids learn and play.
  
Supporting Kiwi kids is a priority and KidsCan want to do this as sustainably as they can. Meridian is proud to help make this possible through our Decarbonisation Fund, specifically set up to help community groups across Aotearoa reduce their carbon emissions.
The KidsCan team spend a lot of time shuttling between their Auckland premises and the schools and early childhood centres they support around the regions. With the support of Meridian's Community Decarbonisation Fund, KidsCan have installed an EV charging station and replaced two of their vehicles with electric ones. That's a fair few tonnes of carbon emissions that they'll be removing each year!  
  
"We're delighted that Meridian is giving us the incredible opportunity to go electric," KidsCan's CEO and founder Julie Chapman says. "Our programme's team spend a lot of time on the road supporting schools and early childhood centres, it's great to be able to do this more sustainably."