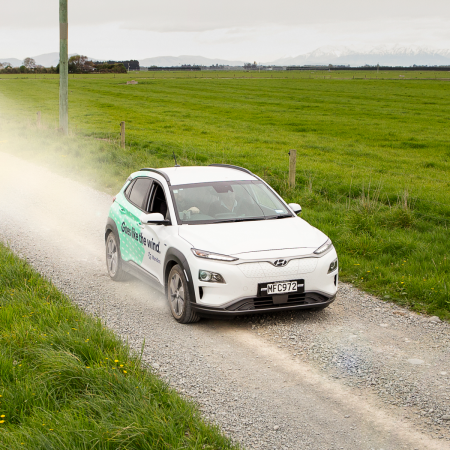 Tackling rural NZ in an EV
Electric cars are all well and good, until you remember you're not a townie and your nearest charging station is an hour's drive away. Right? Well... not quite. Our Agribusiness Territory Manager, Jamie, has been cruising round from his place in Geraldine to the back blocks of Canterbury and Otago in his fully electric car for the best part of a year. And he reckons it goes like a dream. Here's his take on being an EV driver, and why living rurally shouldn't stop you.
Talk to us about your new wheels – what kind of car is it?
It's a 2019 Hyundai Kona, 100 kilowatts, with a range of 250 kilometres. Well, it'll do slightly more than that, but 250's on the safe side. I've been driving it for about 10 months, and in that time (excluding lockdown!) I've clocked up some serious k's... about 15,000.

What was the transition like? Was it love at first drive?
To be honest, I really wasn't sure about using an EV out in the country. I just didn't think it could work. But first of all, the car itself is brilliant. It's so nice to drive – better than a 'normal' car – and it's so quiet. The acceleration is great and it's got some awesome safety features too. And it's no trouble on farm... I've taken it down tracks, muddy laneways, potholed roads, got caught out in the snow, cuts through fine. It's nice and safe, and it goes everywhere you'd get a petrol car to go.
The thing that takes getting used to is planning ahead. Because I'm driving all over Canterbury and North Otago for work, the 250km range means I need to take some planned charging stops, which can be restricting. I make it work though, and it's important to think about the fact that I'm driving a LOT. For anyone doing under 250 k's in a day – ie most people – it's a no-brainer.

How and when do you charge it up?
Since it's a work car, Meridian put in a home charger for me. That charges from 0% to 100% overnight. And when I'm out and about, I plan my stops around using public chargers. It takes less than an hour to get to 80% battery charge from near empty – enough time for lunch or a bit of work while I wait.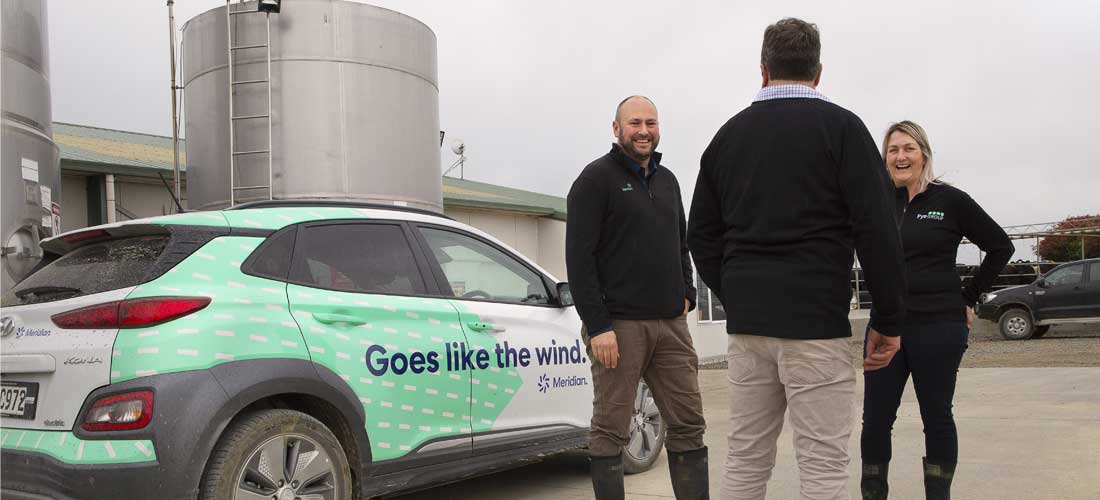 What about the cost?
It's cheap as chips – at home, it's about $40 a month to charge it up. And again, I'm doing a lot of k's. So I guess that cost is actually higher than usual, which is pretty crazy!
So would you recommend an electric car to a farmer or someone living rurally?
Absolutely. For the average user who's doing day trips, if you're able to charge it once a day, you've got a 450k range. That's what I budget on and for most people that's pretty good.
If you're a farmer, you'd have your farm truck or ute and then the EV would be the town runabout. It's absolutely brilliant for that. Better for the environment, better to drive, way cheaper to run. It just makes sense, I reckon.