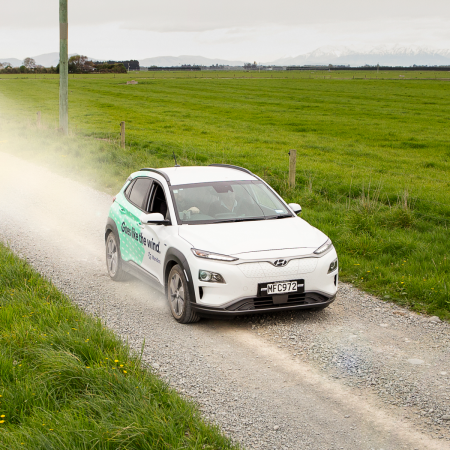 What exactly is an EV? An EV, or electric vehicle, is a car that's powered by electricity. So, instead of filling up a tank with petrol or diesel, an electric vehicle just gets plugged into power, which charges the battery. Yep, charging your electric car is as easy as charging your phone.
We've broken down the differences between electric cars, plug-in hybrids (which are still considered a type of electric car), and hybrids.
EVs versus hybrids – what's the difference?
Electric vehicles
Also known as battery electric vehicles, or BEVs. They do what they say on the tin – run on electricity only. That means you charge up your electric car instead of filling the tank - and you can do it from the comfort of your own home. EVs have zero exhaust pipe emissions, reduce CO2 emissions by 80% and have better efficiency. In other words, you'll be close to driving pollution free – especially since New Zealand boasts around 85% renewable energy generation.

On top of being a cleaner way to get around, once you've got yourself an EV, it's way easier on the wallet. The cost of charging one is the same as paying 30c per litre for petrol. We can't argue with those savings.

While it's hard to fault electric vehicles, there are two things worth mentioning. You might've heard of range anxiety: the feeling one gets when the battery is running low and charging stations aren't nearby. At this stage, you're more likely to spot a petrol station than a public charger. The good news is, there are more and more public charging stations popping up all around New Zealand. (And, we've got some great tips for battling range anxiety).

A second drawback is EV charging time. While these are getting quicker, you're still looking at anywhere between 30 minutes to 12 hours.
Here's a breakdown of some of the popular EVs available in New Zealand from the lower priced Nissan Leaf, to the more high-end Teslas.
Pros
Cons

Cleanest car on the road

Cheap to run

Ditch the petrol pump

Limited charging stations

Charging time

Upfront cost
The best bits of EVs
Like the sound of electric cars, or need more info? Check out the top six advantages to driving electric below.
Plug-in hybrids
Plug-in hybrids (or PHEVs) have two types of motors - an electric motor and battery (charged by electricity - hence 'plug-in'!), and an internal combustion engine (or ICE - fuelled by petrol).

With the ability to go 'full-electric', most plug-ins will cover roughly 30-50km on electric power before switching to hybrid mode. So, if you're one of the lucky ones with a short daily commute but you still want the freedom to drive long distances without range anxiety, a plug-in hybrid could be for you.

Driving in electric mode means savings are on the cards, too. Since PHEVs can run on electricity alone, you'll benefit from the low cost of charging stations, some of which are free.

We do need to mention maintenance, though. While plug-ins have similar benefits to EVs in cost and carbon savings, their petrol engines (with many moving parts) do need to be taken care of. That's where fully electric vehicles come up trumps.
There are a decent amount of options for buying a plug-in hybrid in New Zealand, both new and secondhand. Here's a breakdown of the most popular PHEVs, and what they'll cost you.
Pros

Cons

Can go fully electric

Fuel efficient

Limited electric range

More expensive upfront

Still need petrol

More maintenance than EVs
Hybrids
These are a lot more efficient than a fully petrol car, but they're just not in the same league as plug-in hybrids and EVs because they can only fill up on petrol. The petrol engine and regenerative braking recharges a small battery that gives a short electric range. At the end of the day, you're not ditching petrol at all - the car can just clock up more kilometres to the tank.
Which one ticks my boxes?
There you have it – a super quick rundown of the differences between electric vehicles, plug-in hybrids and hybrids. We're the biggest fans of EVs and PHEVs - there's no denying the environmental and cost-saving benefits. Here's an easy way to compare your options.
| | | |
| --- | --- | --- |
| | Electric (EV) | Plug-in hybrid (PHEV) |
| Zero tail pipe emissions | ✓ | ✗ |
| Ditch the petrol pump | ✓ | ✗ |
| Fully electric range | ✓ | ✓ |
| Plug in to charge | ✓ | ✓ |
| Great for short trips | ✓ | ✓ |
| Great for regular long distance travel | ✗ | ✓ |
| Low maintenance requirements | ✓ | ✗ |
Energy efficiency and saving power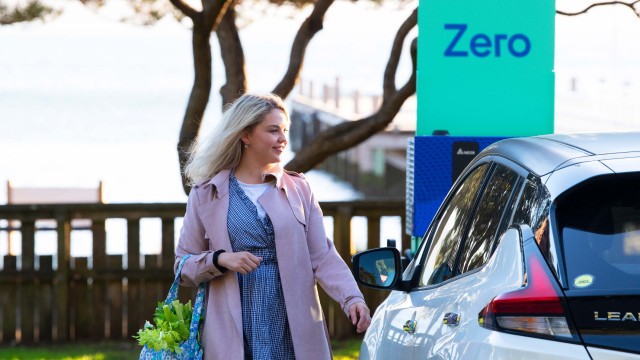 Wondering what the difference is between hybrid and fully electric cars? We've listed the pros and cons for both.