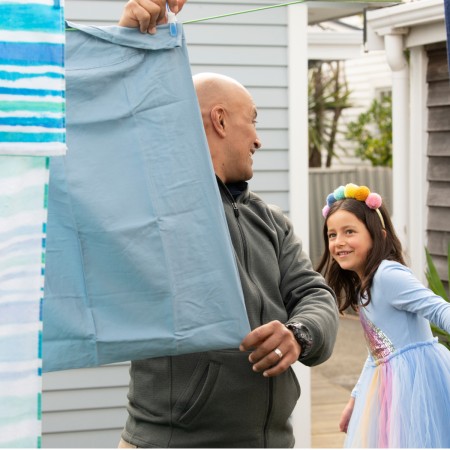 Pricing and plans to power your home
We've got plans to suit you
Power for homes

We power homes, flats and apartments across New Zealand. Choose us for yours. You'll enjoy award-winning service and flexible plans from a power company that's committed to doing good by people and the planet.

Power for baches

Want to power your home and holiday home? No problem, with our Bach Plan you'll only pay for the power you use when you're there and no daily charges. Give us a call to make sure it's the best deal for you.

Power for Electric Vehicles (EVs)

Proud owner of an EV? Nice one. We've got an epic Electric Car Plan for you with cheaper rates at night and up to $200 credit*. Give us a call to check if it's right for you.
Fixed rate pricing
Fixed rate pricing, or guaranteed pricing, means your Meridian charge and network charge each month is fixed for the term of your plan.
Our charges cover the price of energy, and our retail services like meter reading, billing and customer support. Only government and regulatory charges like GST and the Electricity Authority levy can change. Fixed pricing applies when your price category, capacity and metering configuration stays the same and no new network charge is introduced. If any of these changes, and we can no longer offer the plan you are on, we'll give you prior notice and help you find a new plan. Read the full Terms and Conditions.
Choose fixed rate pricing when
you want some certainty to help you budget, even if it means you pay a bit more now than you would on variable pricing
you're happy to sign up to a plan of up to three years.
You can find out more in our Fixed rate pricing terms and conditions.
Variable pricing
With variable pricing, you have no fixed term contract. We can change rates by giving you 30 days' notice.
Choose variable pricing when
you don't want to be tied into a contract
you're happy for your rates to change (with 30 days' notice).
You can change from variable pricing to any available fixed pricing at any time.
Low and standard power usage
Once you've decided whether you want to go variable or fixed, you'll pick whether you're a low or standard power user. The general rule of thumb is that if your winter power bills are less than $200 per month, you're a low user. If you use more electricity, a Standard User option may be better.
Each year we'll check in with you to make sure you're on the best option for you and, if you'd like it changed, we'll switch it.
Low power users
Low power users use less than 8,000* kWh of power per year.
On this plan, you pay:
a lower daily fixed charge
a higher variable charge for each unit of electricity you use. The Low User option is only available for your primary residence and not, for example, for a holiday home.
Join Meridian Change to a low user plan
*This rises to 9,000 kWh in some parts of the lower South Island.
Standard power users
Standard power users use more than 8,000* kWh of power per year.
On this plan, you pay:
a higher daily rate
a slightly lower rate for each unit of electricity you use. Find out how many units you used in the past year. Check your Online Tools, your bills, or call us.
Join Meridian Change to a standard plan
*This rises to 9,000 kWh in some parts of the lower South Island.
There are situations where you can't get a low user option.
Powerswitch price comparison
Want to compare power prices? It's easy as. If you've got your power bill handy, simply upload it here and we'll send you through a comparison with your current power company. Or, for a free and independent energy price comparison visit powerswitch.org.nz.
Why Meridian
We're pretty proud to be the largest generator of 100% renewable energy in Aotearoa New Zealand. We believe that by doing the right thing by people and the planet, we're working to build a better future for our customers, communities, and environment.
100% renewable generation

All the electricity we generate comes from 100% renewable sources – wind, water and sun. Always will. We believe it's the only way forward for the future of our planet.

Local, award-winning service

When you call, our expert team are quick to pick up the phone. They're some of the best in the business when it comes to helping you manage your power. Plus, if you have a fault or emergency, they're here for you 24/7.

Moving power is a breeze

If you're ever shifting house, it's easy to move your power in just a few clicks.
We'll take care of the rest so you can enjoy a cuppa as soon as all your boxes are through the door.
Keen to know more about electricity pricing in New Zealand? Find some answers here.
How do I compare electricity prices?
Just pop your address into our price estimator tool to see what you're likely to pay with Meridian and compare this with your current power company. Just remember there are many factors to consider (like how many bedrooms you have, the number of people in your house, appliance use, and the season) so the estimate is only approximate.
How much will my electricity cost with Meridian?
You'll see the approximate rates you'll pay with Meridian by using our quick price estimator tool.
What are day/night rates?
Day/night rates offer a cheaper power rate at night and charge a bit more for peak power used during the day. It's a good option if no one's home during the day, or you use an above-average amount of power at night.
Day/night rates are only available in some networks, and your meter set up may need to be changed to work with this plan.
What's a kWh?
A kWh is a kilowatt hour: one kilowatt (kW) of electricity used for one hour (h). An electricity meter records the amount of electricity you use in kWh. A kWh is equal to 1000 watts used over a one-hour period. For example, 1kWh = 10 x 100-watt light bulbs burning for one hour.
What kind of pricing plan is best for me if I have an electric vehicle?
If you drive an electric vehicle, good on you! We've got a special pricing plan for you that gives you lower rates for charging your EV at night. If you sign up for three years, you get guaranteed energy rates, a $200 bill credit* and a free smart meter install, if you don't have one already. Check out the Electric Car Plan.
What costs make up my power bill?
There's lots that goes into the cost of power. More than just the cost of energy, there's transmission and distribution, metering, Government levies, GST, and our operational costs. Here's the full breakdown.
How do I switch power companies?
You can switch power companies and join Meridian in just a few clicks. Join online here or call us on 0800 496 496. We'll take it from there, get you set up, and even break the news to your old power company.