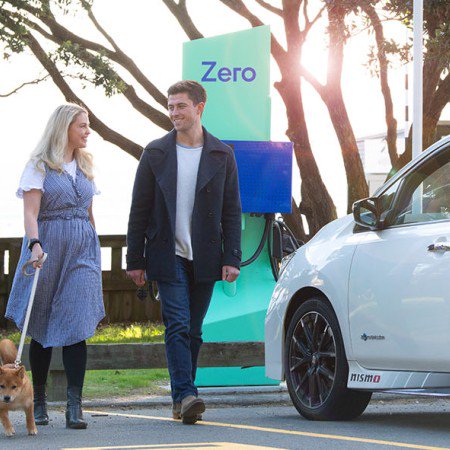 Charging Solutions for Electric Vehicles
At Meridian we're passionate about the planet and want to make sure it's around for generations to come. That's one reason we believe the future is electric.
It's no secret we're excited about electric vehicles. Our passenger fleet is 100% fully electric and we're well on the way to converting our other vehicles. We currently provide charging solutions for homes and businesses, too. Our next step is bigger and better – creating an EV charging network across Aotearoa New Zealand. This network is called Zero, giving a nod to the types of cars they're designed for – cars with zero tailpipe emissions.
But our solutions don't just help when you are out and about - we can help make charging your EV at home easy and affordable.
Zero - our EV charging network

Once completed, the Zero charging network will be one of the biggest destination charging networks in Aotearoa New Zealand.

These will be mostly AC Chargers found in a variety of locations where people go to spend a decent amount of time, such as shopping malls and parks. We'll also be adding in DC Chargers too for those that need a quick top up on the go.

EV Plan

Charging up at home? Our EV Plan is available all over the country - so no matter if you're in Kaitaia, the Bluff, or somewhere in between* - if you're ready to plug your car in, we can help with cost-effective EV charging at home.

*Some restrictions and eligibility criteria apply
Got more questions?
If you have any questions, or are a public facing business who would benefit from a charger, feel free to get in touch. If you want to know more about electric vehicles, check out our EV hub for information about why and how you can make the switch.