 Celebrating gender balance
Gender tick
The Gender Tick recognises the hard work the Meridian team has done to promote diversity and inclusion and the work we still need to do. It matters to us that we're a company that represents the diversity of our country so reaching this goal is something we've prioritised.

The Gender Tick recognises our gender inclusive culture which we know is not perfect, with women historically underrepresented in technology-based roles. It's on us to get that balance into the generation part of our business, as well as doing what we can to lift interest in our industry across a much broader audience. This isn't just a numbers game for us, inclusion and balance makes for better innovation and decision making and opens us up to the widest possible pool of talented Kiwis.
"I'm happy to share that we've been awarded the Gender Tick. Meridian is one of only seven New Zealand companies to win the accreditation - it's a pretty new recognition but not an easy one to get." Guy Waipara, GM Generation and Natural Resources
Every year we work with the Connexis 'Girls with Hi Vis' programme, inviting young women from all over the country to come take a look at what we do. They spent a day at three of our sites, having the chance to see what we do day-to-day with the hope that they get why we're such renewable energy geeks.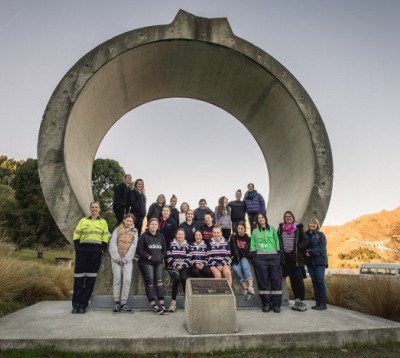 To put real action and support in place, we agreed that all our candidate short-lists for recruitment must include at least one male and one female or we'd go back to market. Making calls like this helps us reach our goal of workplace balance.
As well as gender pay equality and a safe workplace, women in leadership was one of the main things the Gender Tick looked at.
Getting the Gender Tick isn't the end goal for us, it's a milestone that recognises the importance of gender balance at Meridian.
It shows the hard work our teams have done in the past to get us worthy of being accredited, and it's helping us set goals for the future.