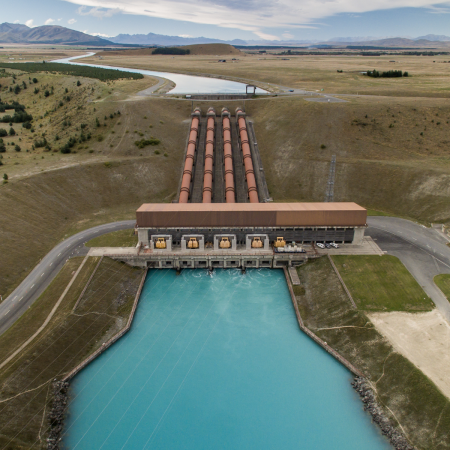 Ōhau A is a hydro station located in the Mackenzie Basin, South Canterbury, New Zealand.
It has four 66 megawatt generating units, and a generation output of up to 264 megawatts.
Ōhau A generates enough electricity each year for about 144,000 average New Zealand homes.
The Ōhau A power station is located at the end of the manmade Pūkaki canal. The Pūkaki canal joins with the Ōhau canal to meet the water flows from Lake Ōhau and Lake Pūkaki.
Building Ōhau A
Ōhau A was the second station built as part of the Upper Waitaki hydro scheme. The scheme began in 1968, when Twizel township was established.
The Upper Waitaki hydro scheme involved building four hydro stations, along with two dams and six canals totalling 56 kilometres.
During construction of Ōhau A, approximately two million cubic metres of rock and gravel was excavated from the northern bank of the Ōhau River. That's about half a million concrete truck loads.
Another half a million cubic metres was removed for the tailrace – the tunnel that channels the water out of the station.
During the building of Ōhau A, Mr Max Smith, the locally based Project Engineer of the Upper Waitaki Power Project, came up with the idea of creating a rowing course in Lake Ruataniwha.
Work went ahead on the course – and it's now a national venue for rowing.
Key dates
1971 Construction begins
1979 Ōhau A fully operational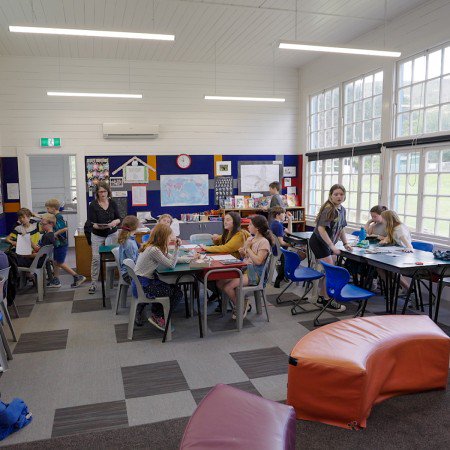 Meridian Power Up community fund
Our Power Up community fund supports local projects in the areas where we have wind farms and hydro stations. It's one of the ways that we recognise the importance of local communities to our operations.
If you're based near a Meridian hydro station and have a project you'd like to get off the ground, apply now!