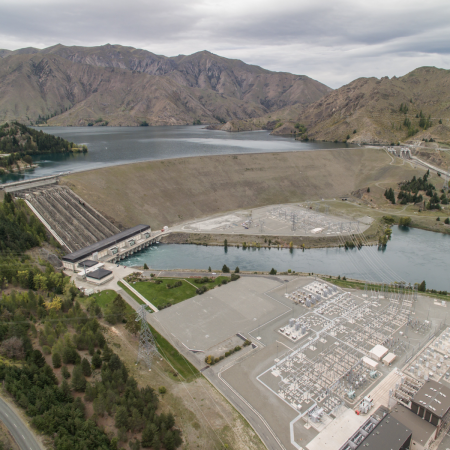 Benmore is a hydro station located in the Waitaki Valley, New Zealand.
It has six 90 megawatt generating units, and a generation output of up to 540 megawatts.
Benmore is the country's second largest hydro station after Manapōuri. It generates enough electricity each year for about 298,000 average New Zealand homes.
The Benmore power station is located on New Zealand's largest manmade lake – Lake Benmore – and is New Zealand's largest earth dam.
Building Benmore
Construction started in 1958. The lake was filled in December 1964, and the first power was produced in January 1965.
Initially Benmore was going to be a concrete dam like Waitaki, but advances in dam building techniques meant Benmore was able to be built using earth.
At the time of construction, the dam was the largest in the Southern Hemisphere and the project was the biggest of its kind in New Zealand.
Building a dam and a community
In October 1957 the plan to build the Benmore power station was approved in conjunction with the Cook Strait Cable. Work began to build a camp for the workers to live in.
The first group of about 150 men arrived in February 1958 to begin work on the dam. In August 1958 the first 11 shopkeepers arrived to open stores to cater for the growing population.
The workforce consisted of Ministry of Works employees and contractors.
By the end of the year, there were over 450 workers living and working in Otematata. This was the start of significant growth in the small town.
Key dates
1958

Construction begins

1965

Benmore fully operational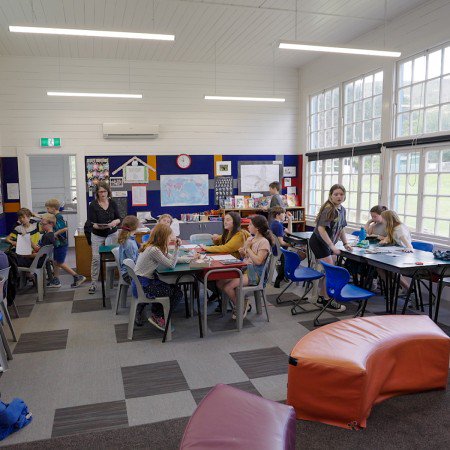 Meridian Power Up community fund
Our Power Up community fund supports local projects in the areas where we have wind farms and hydro stations. It's one of the ways that we recognise the importance of local communities to our operations.
If you're based near a Meridian hydro station and have a project you'd like to get off the ground, apply now!